'We are a business that only succeeds if we can succeed with brokers,' says Ageas chief executive
Belgian-owned insurer Ageas UK is a business that has undergone a significant transformation over the past three years.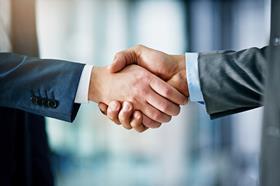 Back in 2021, the firm announced that it would "double down" on its commitment to the broker distributed personal lines sector.
Then, in February 2022, it backed up this claim by announcing that it had sold the renewal rights for its UK commercial business to Axa UK and Ireland for an initial consideration of £47.5m.
This move put Ageas into a somewhat unique position within the UK market – an insurer that is committed wholly and solely to broker distributed personal lines business.
Speaking to Insurance Times as he ticks into the fourth year of his tenure as Ageas UK chief executive, Ant Middle says: "It's a very straightforward strategy that we have set out, but one that needs real focus and rigour in its execution.
"My view, as I took on this role, was that for us to be the best we can possibly be it would be better to do fewer things far better."
Middle became chief executive of Ageas UK in June 2020, having stepped up from the position of chief customer officer at the insurer.
He first joined Ageas in 2014 as managing director for partnerships, however, and previously held roles at both Aviva and Axa as strategic partnerships director and managing director for commercial respectively.
Middle's appointment as chief executive coincided with the insurer's decision to focus in on its core competency of mediated personal lines business – a decision that he was instrumental in and fully backed.
He explains: "The strategy we're now setting out upon is to solely focus on personal lines business via intermediaries, but among those strategic choices are the hardest choices of all, which are the things not to do.
"So, as we made the decisions that we made three or so years ago, we also had to make choices around things that we wouldn't continue with, as this was all about determining where we could win for the long term.
"One of the things we decided was parts of the business would be better looked after by somebody else, such as in commercial lines, which we have stopped doing. We've done a deal there to enable us to wholly and solely focus on personal lines."
Strategic rationale
In its half year results for 2023, posted on 30 August, Ageas revealed that its overall business achieved non-life combined operating ratio (COR) of 98.1%.
While the Belgian-owned group does not split out its results for its UK business, it did note that UK COR had improved over the most recent period to offset the impact increased medical claims costs in the insurer's Portuguese business.
In the Top 50 Insurers 2023 report, it was noted that Ageas's gross written premium fell by 11% year-on-year, although this was primarily related to the sale of the insurer's commercial lines business and "reduced volumes due to pricing discipline".
Middle comments: "We're very much on course to achieve the profitability objectives that we set for ourselves by the end of [2024], which were to achieve or beat the 95% COR."
Ageas' position, on track to achieve its profitability objectives, has been largely supported by the strategy it decided to commit to, Middle adds.
But it is not just any insurer that could make a success of operating entirely in the brokered personal lines business and Ageas has relied on both its partnerships and its decades of experience working in this market.
Middles says: "We know where our strengths are and the history of Ageas is in the intermediated business, which has always been the largest part of our business, the area where we have the greatest skill and data, where we have the strongest reputation and where we've been most profitable."
When the insurer began to communicate its strategy to its brokers, Middle says that it was well received because of a "strong, long-term track record that made the strategy we set out instantly believable".
He adds that Ageas has backed up its promise to support brokers by investing in areas that "ultimately deliver benefits" for them. For example, Middle notes that Ageas made the tough decision to become one of the first insurers to begin applying rate increases around Easter time last year.
While this move was made with the knowledge that it would harm the insurer's short-term competitiveness, Middle says that "it was right for our business and our brokers to start to face into that challenge early and not let it get away from us".
Crucially, Middle says that this decision also allowed the insurer to apply "sensible rating discipline" over a longer time period and in a consistent way, thus "avoiding shocks" that would also unduly harm its broker partners' competitiveness.
Confidence in brokers
Clearly, Ageas has planted its flag firmly in the ground to announce itself as an insurer entirely committed to broker distribution.
This is not the result of pure belief however – and Middle notes that the broker model of distribution has clear advantages that Ageas has bet on the future of.
He says: "We have to work with a broker, so two businesses have to work really well together and be able to compete against a direct insurer, for example, who doesn't have the double cost base."
This double cost base could perhaps be seen as an inherent disadvantage for an insurer looking to chase profit, but Middle believes that the benefits far outweigh the costs.
He explains: "What I love about the way we work with our brokers is what they can bring to the party.
"How many times have brokers been written off, particularly in personal lines? Forever and a day. But it's never happened. They have proven to be incredibly resilient, but particularly super entrepreneurial.
"That entrepreneurial spirit that our brokers bring, that efficiency, that real customer focus, is something that we as an organisation can lean into and learn from – and we can offer something to that conversation too."
As Middle notes, Ageas has achieved over 25% growth in personal lines via intermediaries this year, coming from both premium growth and increasing customer numbers.
He concludes: "That's a good clue that things are pointing in the right direction. We are a business that only succeeds if we can succeed with brokers."

Yiannis is acting editor at Insurance Times and the winner of the Most Promising Newcomer prize at the Biba Journalist & Media Awards 2023 for his work covering the big stories within the insurance industry.

With a particular focus on regulation, geopolitical and systemic risks and conflict, he has covered the insurance implications of the Ukraine war, riots in France and the commissions scandal for multioccupancy buildings insurance.
View full Profile