Besso's indefatigable executive chairman has UK financial regulation in his sights – labelling the Bribery Act 'foolish' and calling for the Financial Conduct Authority to learn some lessons from an 'overbearing' FSA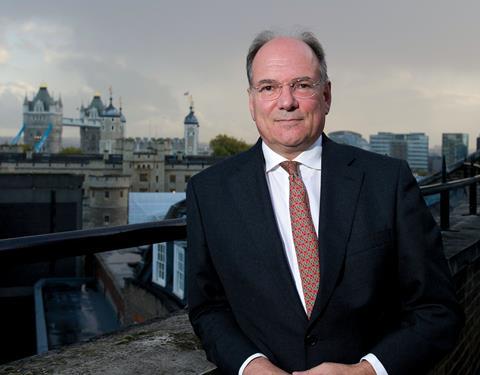 Michael Wade is not afraid to hunt big game. In the mid-1990s, the Besso executive chairman hatched a plan to create a Lloyd's consolidator with financial backing from Warren Buffett. More recently, he advised George Osborne when shadow chancellor.
Now, fresh from paying almost £1m for 15% of Besso earlier this year, the UK financial regulation system is in Wade's sights.
Wade started out as a trainee aviation underwriter, an interest sparked by a teenage passion for flying. "To my parents' utter horror, I learned to fly at the age of 19 and ended up flying an aeroplane called G-WADE - the ultimate in bad taste," he jokes.
But once in the business, he was hooked.
The London market was a different place then, he says. "You could join in the morning and start placing business in the afternoon and I did. It was the sort of thing you couldn't do today."
Flying start
At the tender age of 26, Wade set up his own firm - a joint venture with old established Lloyd's broker John Holman and Son - to provide specialist reinsurance contracts for Lloyd's members. Within five years, he says the company had over 300 staff and by 1990 it had cornered 90% of its market.
After buying out Holman's Lloyd's broking interests and merging with ship broking group H Clarkson, the company listed in 1986. "It was quite a good flying start," he muses.
In the early 1990s, Wade moved on to set up finance vehicle Corporate Lloyd's Membership (CLM) with former British Rail supremo Sir Peter Parker as chairman. Then he developed his audacious plan to set up a £2bn holding company to be a stock market vehicle for independent Lloyd's vehicles. It didn't work out, resulting in a "slightly bloody nose" but no regrets, he adds.
Punching above its weight
But earlier this year, the opera buff returned to his broking roots by clubbing together with private equity firm BP Marsh to purchase Wells Fargo's 37% stake in Besso. The company is a London market wholesale broker, specialising in lines such as North American property and casualty.
He says the new ownership structure means greater operational freedom than is possible with a major US shareholder. "Besso's reputation is built on handling highly complicated risks; it punches well above its weight in the London market," he says.
Big acquisitions are not on Wade's agenda, but a managing general agency may be. In addition, he has wrapped his insurance linked securities provider Optex into Besso.
Standing by Osborne
Not content with taking on Besso, Wade has also launched a one-man crusade on regulation, taking his concerns as far as the floor of the Conservative Party conference last month.
He has a long-standing interest in the subject. More recently, he was a member of the Conservatives' Economic Competitiveness Policy Group, reporting to Osborne while in opposition.
He applauds Osborne for listening to the group's recommendations on the taxation of foreign subsidiaries, which paved the way for the government's proposed changes to how such companies are treated for corporation tax purposes.
'Good honest business is turned away'
But Wade, a Tory Party treasurer, wishes that ministers were listening harder to the industry on regulation.
Most pressing he says is the impact on the London market of the FSA's approach to applying the Bribery Act, saying that it is 'misguided' to fine firms just for lacking systems and controls to prevent potential corruption.
"You get a huge addition of cost, great uncertainty and, to be frank it brings into question whether you bring business into London. That's already happening," he says.
"There is business that we are not doing here because it's too difficult to tell whether it will comply with the legislation and where we absolutely know that the French and German and certain Middle Eastern markets will snap it up. And it's good honest business which is being turned away: that's the point. If it was corrupt business, I would not give a damn as we would not deal with such people in the first place."
Banging his fists, politely
How much could London lose due to what he describes as this "foolish piece of regulation"? He pauses before answering. "Over time, London will lose billions of pounds of premium. It will go into the markets that are less regulated," he says.
A "big share" of the £50bn per annum written in London could disappear, he says. "All of the developing countries' marine accounts, energy accounts - anything where you are dealing with clients in developing markets, where you can't necessarily rely on systems and controls that are now being introduced, will go elsewhere. That would be a tragedy for the London market."
But he does not believe that it's game over. "It's not lost at the moment, but we have to bang our fists a little bit on the table, politely, and say to parliament this is not acceptable."
Wade draws parallels with the rows over taxation of short-term reinsurance profits in the early 1980s. The Treasury was warned that much of London's business would migrate to the then nascent Bermuda market. "From virtually nothing, a $25-$30bn market emerged in Bermuda: every penny of that business should have remained in London."
FSA is past its best
Wade's concerns also embrace the government's overhaul of financial regulation. The FSA worked "rather well" in its early years, he says, but has become overbearing post-financial crisis. "You have unbelievable costs of regulation, much of which is unnecessary and unreasonable and disproportionate.
"They (the FSA) have created a labyrinth of regulation and systems that bear no proportion to the risk that they are trying to control. It's an unacceptable cost."
Wade argues for more checks and balances on the Financial Conduct Authority, which is taking on the FSA's non-prudential responsibilities, including an appeals panel. Another beef is that companies must pay for section 166 notice investigations.
"Politicians are in no mood to listen to anything remotely resembling light touch regulation; I am suggesting a hybrid."
Wade, however, is optimistic about the London market. "It's one of the last bastions of relationship-based trading. Relationships do matter and in fact they are fundamental to it: it's not just numbers on screens.
"We are world class and we are world beating." The trick is to keep it that way.