The arrival of the FCA and Biba was heartily welcomed by brokers and participants gained insight into the regulator's methods of working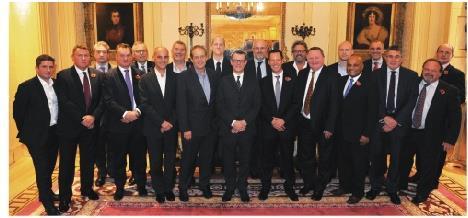 The third and final Broker 50 session of 2013 was a milestone for the event as it delivered what its members had been asking for: an audience with the FCA.
FCA head of general insurance and protection Simon Green addressed broking chief executives and representatives from sponsors ACE, Enterprise Rent-A-Car, RSA and Xchanging in the spectacular surroundings of London's Lanesborough Hotel.
Also present were Biba chief executive Steve White and executive director Graeme Trudgill to represent the united voice of brokers and outline the trade body's plans for 2014.
Members made it clear in the first event of the year that they wanted the Broker 50 to be more than just a talking shop.
Green's presence also sent a clear message to brokers that the FCA is a very different regulator to its predecessor. Many noted that it would have been surprising to see the FSA attend such an event and put such a senior regulator on the spot.
Green's address to brokers reaffirmed some of the points that the FCA has made frequently about its determination not to work against the industry.
However, he also revealed some insight into the inner workings of the FCA's 70-strong general insurance and protection staff, how it makes decisions and focuses on certain areas.
He also revealed the areas the regulator was considering for its next thematic reviews. While not a definitive list, it gave brokers an idea of the regulator's thinking and points of concern.
For its part, Biba criticised the number of thematic reviews and reminded the regulator that the cost of broker regulation in the UK as a proportion of income is the highest in Europe.
Biba plans to refresh the research it did into the cost of broking regulation, including more countries to see how the cost of the regulation in the UK compares globally.
One thing is for sure: 2014 will be an eventful year for brokers, regulators and the Broker 50.