Senior directors from PYV Ltd join Howden, leaving PYV Ltd a shell company
A group of senior directors have left London market broker PYV Ltd to join Hyperion, bolstering the group prior to its much-anticipated flotation in a year's time.
PYV chief executive Neil Pointon and directors Ian Boscoe, Lee Chapman, Robert Bass and Steven Clews have all joined Howden, Hyperion's broking subsidiary.
Howden snapped up PYV's legal and IFA books earlier this month. PYV Ltd will effectively now be left as a shell company.
A breakdown of Hyperion's recently released, fully published accounts show how the business is shaping up for the all-important flotation in mid-2012.
Hyperion will almost certainly be first out of the blocks for a listing in the UK insurance industry from Towergate, Cooper Gay, Oval, Esure and Direct Line, which all have flotation ambitions.
Although its international profile and mix of business is different to those companies, it will be the first UK insurer/broker to list since Jelf six years ago, and investors will see it as a barometer for other floating insurance companies.
One concern surrounding Hyperion – made up of broking group Howden and underwriting arms CFC and DUAL – is whether it has the size to become a liquid stock traded regularly by investors and followed closely by analysts.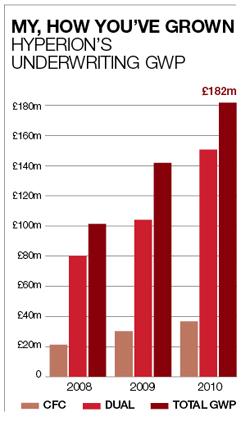 Hyperion's earnings before interest, taxes, depreciation, and amortisation (EBITDA) grew 41% last year to £12m for the year ending 30 September 2010. Revenue was £72.2m.
Hyperion's market capitalisation would probably establish itself within the £200m and £400m market cap range – a range in which many companies have suffered illiquid trading. Novae, for example, has a market capitalisation of £241m, and its share price has struggled to move beyond the 300p to 400p range since 2008.
One way to escape the illiquidity trap is to have a 'growth story', and Hyperion's accounts show a number of attractions.
Last year, fees and commissions in the emerging markets grew strongly. The Americas overtook the UK as the largest segment, moving from £13.4m to £15.8m. Australasia grew from £4.1m to £6.585m and the Middle East increased from £6.2m to £7.1m.
Hyperion still has £22m of funds for acquisition and undrawn borrowing facilities. The board also has a wealth of experience with respected industry figures, including: non-executive chairman John Van Kuffeler, a former chief executive of investment banking group Brown Shipley; founder David Howden, who started the group in 1994; and chairman Bob Van Gieson, who was former chief executive at Arch Insurance.
An analyst said that stocks with a market cap beyond £1bn are pretty much assured liquidity; for those between £500m and £1bn there is less trading, and between £150m and £500m is frequently a real struggle.
The source said: "Below £500m is more niche and you have to be pretty sure who your audience is going to be.
"You need to have a growth story so people will have a view as to how you are going to be a bigger company over time, or a very special story around a strong cash generation and then it will be a yield play. A lot will depend on the economics at the time."
Hyperion chief executive David Howden said: "Our plans for an IPO remain in place and, as had always been the case, we will be driven by market conditions, our existing shareholders and independent advice."