Chief exec compares fleet and pet insurance revenue figures to demonstrate pandemic impact
After recording gross written premium (GWP) declines across all its business areas for the first half of 2021, Allianz Holdings' chief executive Jon Dye said the insurer has experienced "ups and downs" across all of its accounts, "driven by what has happened in the world over the last 18 months" around the Covid-19 pandemic.
Speaking to Insurance Times following the publication of Allianz's half year financial results on Friday, Dye referenced the insurer's fleet account and pet insurance line as two specific examples of how the pandemic has hit the business's bottom line.
He explained: "If you look at our fleet account, the first half of 2020, revenue was £263m and the first half of 2021, it's £244m – so that's dropped and that's a function of fleets running fewer vehicles, it's a function of the claims frequency effects which has been reflected in the prices, so the revenue available in the fleet market is basically under pressure.
"If you compare that with the pet insurance numbers, first half of 2020 was £243m, first half of 2021 is £275m and that's because there's been an explosion in pet ownership through lockdown and people have been insuring cats and dogs in increasingly large numbers.
"In both of those accounts, Allianz is in a leadership position, so our ability to trade in fleet, our ability to trade in pet, we're very, very strongly placed in each of those lines of business, but you can see that the pandemic has affected them in the opposite way."
Commercial and personal see-saw
Dye added that Allianz's commercial lines revenue has been tightly tied to the pandemic-dented economic environment.
He continued: "In terms of revenue, we can see some impacts of the pandemic on the wider economy coming through our revenue line there, but we can also see it's beginning to pick up.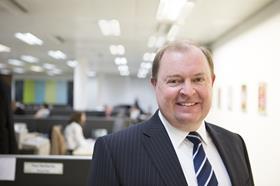 "In recent months in particular, we can see that new business enquiries have begun to increase, our broker contract rate is actually up over the same period last year, which is great to see and as the economy starts to open up, businesses start to operate again, we'll see that flowing through into our commercial revenues and indeed, we can already see that beginning to happen."
In particular, Dye noted that Allianz Insurance's commercial lines combined operating ratio (COR) had improved from 110.1% in H1 2020 to 97.4% for the first half of 2021 "because in the first half of 2020, we had a significant impact from Covid-19 business interruption [claims] and clearly, that hasn't been a big feature in the first half of this year".
He added that although it is "no surprise perhaps that the profitability has come back strongly" this is "still good to see".
Allianz Insurance's personal lines business has seen an opposite trajectory, however – COR increased from 90.4% in 2020 H1 to 94.1% this year, which Dye attributed to "some adverse run-off in the old private car book".
Talking on this further in reference to Allianz's organisational restructure, which will create distinct commercial and personal lines businesses, Dye added: "[The private car book] is an old book now because of course we transferred that business over to Steve [Treloar] and his friends in LV= in the course of 2018 and 2019, so none of that will be going across into Allianz Personal.
"What Steve has already received is Petplan and the musical and legal businesses and they're actually in really good shape as we move into the Allianz Personal world – Petplan in particular benefiting from the massive increase in dog and cat ownership that we've seen throughout the various lockdowns and growing very strongly and very profitably."
Motor claims
Pandemic impacts have also fed through to LV= General Insurance's (LV=GI) half year financials, according to its chief executive Steve Treloar.
He noted: "Like many others operating in the market, we've seen our revenue fall around 6% [in H1 of 2021] - that's very much a function of the competitive market conditions but also a function of the fact that we're seeing fewer claims in the motor insurance market and those savings are being passed on to consumers.
"The ABI reported that the average premiums are at their lowest for five years in car insurance."
Despite this, Treloar added that LV=GI has seen its "combined operating ratio drop to 87% and the profits increase by 16% to £125m".