The insurer's chief executive of GI business lifts the lid on his leadership since accepting the CEO role last year
Colm Holmes was appointed the chief executive of Aviva's UK general insurance business last June. Previously, Holmes had worked as the firm's managing director for UK business, and had even completed a stint in Canada, when Aviva chief executive Maurice Tulloch asked Holmes to return to the UK for new chief executive responsibilities.
"It's something I wanted to do and I genuinely feel that I can make a real difference to Aviva's general insurance business," Holmes told Insurance Times.
"That difference is not just about growth and profitability. It clearly is about that, but [it is also] making sure [the] culture is right, that we embed customer centricity into our business, that we keep innovating in the industry, that we continue to be the market leader in the UK.
"I want Aviva to be the champion of British industry. We are 300 years writing insurance in Britain and we need to continue and that brings a responsibility, but it also brings a huge opportunity for Aviva and I want to continue with that."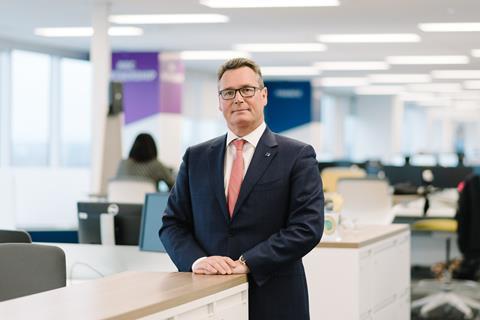 Colm Holmes
Building the business
Holmes admitted to being a mathematician at heart, preferring to focus on facts and figures rather than anecdotes. With this in mind, Holmes infuses his leadership style with a data-focused discipline that drives business decisions.
"I strongly believe that the best insurance companies are the best underwriting companies, so I make no bones [that] our investment will be in the fundamentals of insurance," he explained.
"I want to have the best indemnity, the best service, the best underwriting capability and the best data and analytics. Aviva has traditionally been strong at those, but it's important that we continue to build on that."
This arsenal of tools and skillsets should enable Aviva to effectively serve its customers, Holmes added. "Customers want to trust; they want to be treated properly. They want transparent products that do exactly what they thought they'd do, and they want to know that when things do go wrong, we're there for them."
Successful growth
With these fundamental foundations in place, Holmes has set structured goals for his GI team.
He said: "There's certain areas of the business that haven't performed as well as they should have done. Our personal lines business has struggled over the last couple of years – we've got to change that.
"Our mid-market share is not where it needs to be. I need to grow that, and our specialty risk capability is narrowly focused; we need to expand that. I've got very clear objectives for where we want the growth to come from."
But, how does Holmes plan on achieving these transformation-centric targets? For him, success lies in teamwork.
"Individuals don't create great companies; great teams create great companies. My philosophy is very much about a team building a business," he added.
"Being successful in general insurance is about doing the right thing every day correctly and having that level of discipline and focus. I believe if you have that discipline and focus coupled with the best talent in the market, you will be the best insurance company."

Subscribers read more
Pressure on Aviva boss Tulloch as Asian sale idea is ditched