In a panel discussion on emerging trends in the cyber market, one expert believes insurers are expanding their policy coverage too much in response to broker competition
Increased broker competition in the cyber insurance market is causing insurers to increasing coverage to unsustainable levels.
This was according to business group leader on cyber for Barbican Insurance, Graeme King, who was at the Insurance Times Cyber Insight 2018 event yesterday.
Speaking on a market update panel looking at key trends and product offerings in cyber at the moment, King said insurers were at risk of getting lured into a "race to the bottom" to meet the increasing demands of brokers' clients.
He said insurers have to be careful about the breadth of coverage their policies include, and spoke out against allowing for standard crime to be included in a cyber policy.
"As an insurer we are always trying to stay relevant in the market, but equally we must be mindful over how far we are willing to push that for any given sector or any given type of risk," he said.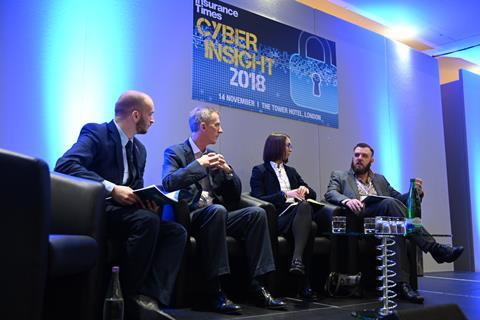 "One of the main challenges facing the industry is that there is a growth in the desire to expand coverage."
This, he said, was partly driven by increased competition. And he added that inconsistencies in what different policies mean was furthering the problem. He gave the example of what "social engineering" refers to in a cyber policy.
"Some policies will only include being tricked over the internet, but some might include someone tricking you as to their identity through a phone call or coming to your door in person," he said. "Some social engineering covers have gone even broader than that, and I'm very uncomfortable with that, because that is effectively non-cyber crime cover.
"Our job is to work out what our appetite is for any given risk. It's about insurers being true to what they are willing to do and trying to stand your ground a little more to encourage other markets to follow suit. A lot of coverage and higher exposure will ultimately mean loss of premium as well."
Half-way house
JLT Specialty partner - cyber/technology E&O, Claire Davey said that there was a "half-way house" to reach in providing clients with the coverage they want while ensuring insurers are comfortable with the risk they are supporting.
She said social engineering cover used to be restricted to a crime policy, but that the last 12 months had seen SME clients increasingly ask for this coverage within their cyber policies.
Davey added: "Social engineering used to be very siloed within a crime policy and now because some clients feel its related to a computer that it should be within a cyber policy. We are starting to see some of that coverage brought in for the smaller insureds."
Among larger businesses with higher exposure, she said there was a trend towards a tailoring of business interruption definitions to ensure they fully reflect the organisation's activities.
And she added that a key driver of change in the cyber market was also being lead by the clients themselves. She highlighted that, unlike traditional lines like property where the policy remains static year-on-year, that changing activities of clients meant their cyber risk requirements rarely stayed the same.
She said: "With cyber and tech, the clients exposures are changing on an annual basis, baring in mind the developments in their business activities.
"What we might have arranged for their policy in 2015 is no longer going to be fit for purpose today. That's probably what is driving the constant innovation, which is a good thing."
Subscribers read more
Top cyber policies revealed in exclusive report