The law firm has been in discussion with several government ministers about expanding the scope of the Online Safety Bill
Law firm, Carpenters Group has been pushing the government to better regulate the activity of technology firms in order to combat spoof adverts displayed on search engine Google, according to its head of public affairs Andy Thornley, who was speaking during this month's Insurance Times's Fraud Charter roundtable.
The issue is that fraudulent parties are buying popular phrases that are searched for on Google via a smart phone, such as 'Aviva claims number' – this then means that their spoof adverts are appearing prominently at the top within the search engine's results.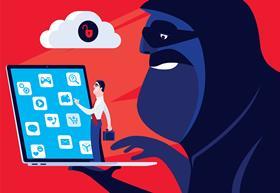 Therefore, when a claimant is involved in a road traffic accident, for example, they will often run a Google search on their mobile phone for their insurer's contact details, which then brings up a 'click to call' function to telephone immediately.
If the claimant clicks on a spoof advert's link and then uses the 'click to call' function they are then unknowingly put through to a fraudulent claims management company (CMC), rather than the genuine insurer.
This enables fraudsters to capture claims information, so that they in turn can spoof insurance organisations for financial gain.
Thornley explained: "So far, Google has attempted to address the issue by introducing due diligence on firms who use Google ad words and sometimes pausing the adverts while that due diligence takes place.
"But the issue still prevails, so the action undertaken so far has not been enough."
This is why Carpenters Group is urging the government to regulate more closely the activity of technology companies, to increase their responsibility for the adverts they display.
Pushing for a solution
There are two potential routes to a solution, according to Thornley – the draft Online Safety Bill (OSB) and through a new division of the Competition Markets Authority (CMA).
Following pressure from the financial services and insurance industry, the government has recently moved to extend the draft OSB to include financial scams that could cause hurt and distress.
Thornley argued that this only relates to user generated content, however, which doesn't specifically target the issue around spoof adverts.
The ABI is also undertaking a campaign to try and expand the scope of the draft OSB, which was described during the Fraud Charter meeting as a complex and lengthy piece of legislation.
On this topic, Carpenters Group has so far had discussions with MP Paul Scully, Oliver Dowden, secretary of state for digital, culture, media and sport of the UK and John Whittingdale, minister of state for media and data. All three have pointed the law firm towards the CMA's digital markets unit.
The firm has also spoken to consumer group Which?, as well as a number of other consumer bodies, that also believe the issue of spoof adverts extends beyond just the insurance sector.
"We are pushing forward with that policy objective to try and get more regulation," Thornley said.
Insurance Times has contacted Google for comment.