The pandemic has triggered a 'permanent shift' in the way businesses operate, which will push the demand for commercial and personal cyber cover
The global cyber insurance market will reach $20.6bn (£15bn) in gross written premium (GWP) by 2025 as the market continues to thrive post-pandemic, according to data and analytics company GlobalData.
By comparison, in 2020, the cyber insurance market was worth $7bn, GlobalData added.
These findings were revealed in the company's latest report, Cyber Insurance, 2021 Update – Thematic Research, published in June 2021.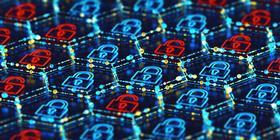 The research highlighted that cyber security was driven into the spotlight last year as the Covid-19 lockdowns forced businesses to digitise their processes and adopt remote working practices, in some cases overnight.
The coronavirus pandemic also saw a spike in cyber criminals taking advantage of the resulting global panic, with a surge of cyber attacks occurring in 2020.
According to the UK government's Cyber Security Breaches Survey 2021 (published on 24 March 2021), 39% of businesses and 26% of charities have reported having cyber security breaches or attacks in the last 12 months.
Among those that have identified breaches or attacks, 27% of businesses and 23% of charities have experienced these incidents at least once a week.
'Year-on-year growth'
Ben Carey-Evans, insurance analyst at GlobalData, said: "The cyber insurance market has seen rapid expansion in recent years, with customers enjoying high coverage limits, flat rates and abundant capacity as insurers sought to capture business in a highly competitive market.
"Despite lower cover limits and increasing premiums, we expect the cyber insurance market to see continual, strong year-on-year growth up to 2025.
"The need for robust cyber security and cyber insurance is becoming apparent to businesses of all types and sizes, as the frequency and severity of cyber attacks continues to rise."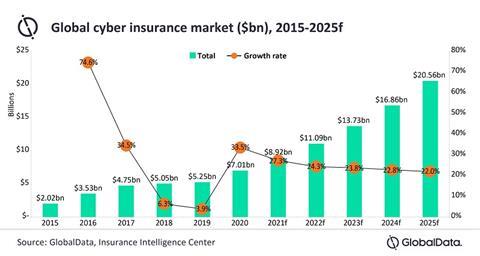 As businesses around the world realised the increased threat of Covid-19 and staff were told to work from home, the cyber insurance market recorded a growth of 33.5% in 2020.
The growth rate is set to remain high throughout the forecast period, with GlobalData projecting a rate of 27.3% growth in 2021.
Carey-Evans added: "Covid-19 has also brought about a permanent shift in the way businesses and consumers operate, with remote working practices set to stay and digital consumer channels seeing more use than before the pandemic.
"This lasting shift in behaviour will push the demand for both commercial cyber insurance and, to a lesser extent, personal cyber insurance in the coming years."