The rate increase has been driven by a rise in ransomware claims
The cyber insurance market saw triple digit pricing increases in the fourth quarter of 2021, according to Marsh's latest report published today (7 June 2022).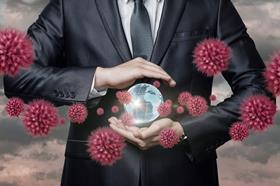 The report – entitled Cyber Trends Report 2021 – revealed that average price increases for cyber cover rose from 28% in Q1 2021 to 109% in the Q4 in the same year.
This was driven primarily by the increase in the frequency and severity of ransomware claims.
Retention levels followed a similar pattern, with 59% of clients witnessing an increase during the fourth quarter of last year.
The report examined insurance buying and claims trends over the previous year and aimed to set expectations for 2022 and beyond.
Both limited capacity and rising prices saw customers reducing the level of cover purchased across all industries in 2021.
Meanwhile, insurers continued to focus on the cyber controls that organisations have in place and these are affecting both capacity and pricing for organisations.
It follows the broker's report in April 2022 that also revealed that cyber insurance pricing had risen.
Key trends
The report also showed that trends have shifted in the past year with existing risks evolving and new ones springing up.
Looking ahead, Marsh pointed out that increased pricing for cyber cover, lower capacity and stricter underwriting have been frequent trends over the last two years.
This affected insureds' cyber programmes in Q1 2022.
Marsh has predicted the following key trends will affect the market:
Underwriting: "The conflict in Ukraine is already sparking new questions and exclusions from underwriters as they seek to understand insureds' possible exposure to the potential cyber aspects of the conflict. Insureds are also being asked to provide more technical details on controls during their submissions."
Limit: "Underwriters are expected to continue operating with limited capacity through 2022 and will likely, therefore, continue to deploy capacity in the $2.5m (£2m) to $10m (£7.99m) bands. We expect limits to remain at a maximum of around $400m (£319.7m), although additional domestic insurers should lead to US-domiciled companies seeing close to $600m (£479m) in limits."
Price Rate: "Increases for cyber polices have continued for over 12 months, intensifying in Q3 and Q4 of 2021. Given that buyers have seen significant pricing increases for the 12-month cycle up to the second quarter of 2022, some flattening of pricing is expected in the third quarter of 2022. We expect to see underwriters continue to use data and target industries that align to their appetites."
Coverage: "The Russia-Ukraine conflict has brought the topic [of war exclusions] into an even sharper focus for all parties and the complexity of the issue means this will likely remain contentious throughout 2022. In addition, considerations around industry catastrophic events such as cloud providers, common vulnerabilities and exposures, operating systems, infrastructure and war are widely recognised as the next big topics that the market needs."