The chairman who saw Lloyd's through one of its most turbulent times, passes away
The former chairman of Lloyd's from 1993 to 1997, Sir David Rowland has passed away.
Rowland is accredited to have saved the market during one of its most turbulent periods.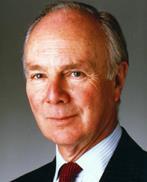 After a difficult few years in the late 1980s, resulting from large claims coming in as a result of marine disasters and natural disasters, such earthquakes and hurricanes. As well as problems in the US surrounding liability for disability caused by asbestos, Lloyd's was suffering from major losses every year, which also resulted in diminished membership.
From 1988 to 1992, Lloyd's posted five years of consecutive losses, totalling $12.4bn.
Successful chairmanship
Rowland's leadership saw the complete turnaround of the market's fortunes. During his time at the helm, Rowland developed a solution to the financial crisis Lloyd's was facing at the time.
Steps he took in this turnaround included setting up Equitas, a reinsurer to assume all liabilities incurred by Lloyd's before 1993; Lloyd's allowed corporate and institutional investors to underwrite policies; and in 1996, Lloyd's adopted annual accounting.
This is just a few of the many pivotal decisions Rowland made which contributed to the market thriving again.
Despite all odds, Lloyd's returned to profitability in 1993. And, under Rowland's guidance, Lloyd's overall assets increased from £17.9bn in 1990 to £27.3bn in 1995.
In 1996, Rowland was awarded the Gold Medal for services to Lloyd's. This award has only been awarded 17 times in the 100 years since it was introduced in 1919.
Deep sympathy
Lloyd's announced the news on its website this afternoon.
Bruce Carnegie-Brown, current chairman of Lloyd's said: "We would like to express our deep sympathy and send our condolences to Sir David's family for the debt of gratitude that we as a Corporation and a Market have to him."
Rest in peace, Sir David Rowland.