'The penetration gap is growing as we don't have enough capital as an industry,' says group vice president
Guidewire's latest partnership will look at helping the insurance industry grow faster at a time when there is a lack of capital.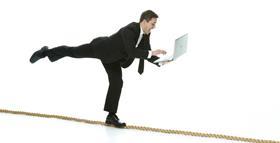 That was according to the insurtech's group vice president of sales Charles Clarke, who told Insurance Times that the global economy was now growing faster than the insurance industry.
Last week (13 November 2023), the firm partnered with Swiss Re in a bid to grow the sector by reducing points of operational friction between risks, insureds, insurers, reinsurers and intermediaries.
Clarke said that the move came as the insurance industry "is not growing as fast as it needs to grow".
"In fact, the global economy is growing faster than the insurance industry, so the penetration gap is growing as we don't have enough capital as an industry," he added.
Clarke claimed this was largely because reinsurance capital had "stayed flat" at around $650bn (£530bn), meaning the return on equity and profitability provided to shareholders and capital providers was "not very attractive".
And as a result, he felt there was not enough of an incentive to plough more capital into the industry.
Interconnectivity
In a bid to help change this, Guidewire's new partnership will look to build a more interconnected insurance industry through the use of technology.
Interconnectivity is the sharing of data and insights into core system and workflows.
To acheive this, customers will be given access to a suite of analytics products, integrations and data transfer mechanisms, starting with the deployment of Swiss Re' proprietary data models and risk insights into the Guidewire cloud platform.
In turn, Guidewire will look to build an infrastructure to cut costs and enable more capital coming into the industry.
"Interconnectivity aims at providing marginal gains and improvements by building the infrastructure to share data and insights through the entire insurance ecosystem," Clarke said.
"We believe that Guidewire is particularly well positioned because we have the system of record and insight in the middle."

Winner of Biba's Best thought leadership Award 2023, and highly commended in this year's WTW awards as Insurance and risk technology journalist of the year.

Interested in all things insurance technology and insurtech.

Writer of the monthly TechTalk section of the magazine and backchat. When not writing can be found doing yoga, at some kind of dance workshop, singing, globetrotting, or baking – not in any specific order.
View full Profile