Read on to find out which insurer extranet platforms gained five star recognition from brokers, as well as which software houses and broker management systems triumphed across the report's metrics
According to this year's Five Star Rating Report: ETrading 2022, published today (10 May 2022) exclusively by Insurance Times, Aviva Fast Trade and Zurich Online have been declared the best extranet platforms after being awarded five stars by brokers nationwide.
For a fourth year in a row, brokers have issued Aviva Fast Trade a five star rating, however 2022 marks the first time Zurich Online has achieved an overall five star score from brokers.
These were the only two insurer extranet platforms to be awarded five stars out of a field that included Ageas Extranet, AIG Extra, Allianz QuoteSME, Axa Connect, Chubb Portal, Covea Insurance Online, ERS Online, Markel Online, NIG the Hub, QBE Fastflow and RSA Online.
Insurance Times' 2022 eTrading survey, which received responses from 820 UK-based brokers, asked brokers to rate the service of: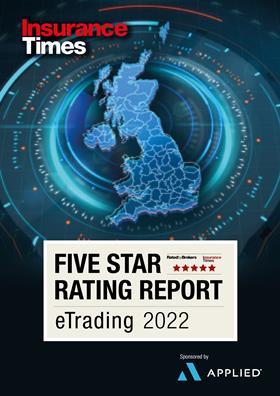 Within the survey, brokers rated the broker management system they use daily. Here, Acturis once again came in first place, with Applied Systems ranking in second spot. This is the sixth consecutive year that Acturis has achieved first place with Applied Systems in second position.
The eTrading survey also investigated the broker journey when trading with an insurer via a software house platform.
For 2022, both Aviva and Zurich have been awarded an overall five star rating by brokers that trade with them via a software house system.
This is an improvement on both firms' previous rankings - in this category, Aviva had received a four star rating for the past three years, while Zurich had gained a four star result for the last two years.
Insurance Times subscribers will be able to review the in-depth results from the report on the Insurance Times website. Details of the ratings will also be available via Insurance Times' Broker Hub, enabling brokers to easily review their insurer partners' eTrading success.
Insurance Times' head of research Savan Shah said: "Aviva and Zurich's five star ratings across both the insurer extranet and insurer via software house platforms analysis is a fantastic achievement - both insurers should be very proud. Previously, this result has only been achieved by NIG a few years ago.
"The report is based on brokers across the UK rating the eTrading experience they have on various platforms, particularly focusing on the key service areas important to broker groups.
"I would like to thank all the brokers that took part. We know that insurers and software houses take the survey seriously and strive to improve each year using the feedback and ratings that you give - your input in this survey directly improves eTrading each year."
Brokers rated insurers across five core areas. These are:
Breadth of cover and product range.
Quality and number of questions asked.
Quality of support.
Quotability.
Usability and trading ease.
Brokers using an integrated broker management system were asked to rate the system they use on the following five areas:
Client management tools and support.
Range and breadth of products.
System reliability.
System technology and innovation.
Usability and trading ease.
Insurance Times has conducted its annual eTrading survey for the past eight years, investigating brokers' opinions, attitudes and satisfaction levels around the eTrading services they receive from their insurance partners and software house providers.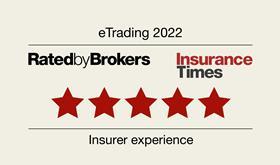 For the fourth successive year, Insurance Times has also given a star rating out of five, linked to score performance.
This is to provide a more practical tool to help assess and benchmark yearly performance of insurer extranet platforms, broker management systems and the broker experience of trading with an insurer via a software house platform.
This year's report also includes a five-year trend analysis of all the insurer extranet platforms that have been involved in the survey over the last five years - this insight is available both online and within the published report.
The Insurance Times Data Insight Book provides all of the broker feedback on all insurers and software houses across several qualitative areas, as well as further quantitative analysis into areas such as broker segmentation - this investigates results from broker groups such as small or large independent brokers, SME brokers, top 50 brokers and mid-corporate brokers. For a preview of the data insight book, please contact Aisha Roberts (details below).
For more information on how to obtain a print copy of the Five Star Rating Report: ETrading 2022, gain access to the online eTrading hub or the 2022 ETrading Data Insight Book please contact: