The UK, Germany and Belgium were the countries most affected by insurance losses
The insured property market loss for Storm Dennis, the extratropical cyclone that hit the UK in February, is estimated at €286m (£256m), according to claims data collated by Zurich-based catastrophe insurance data firm Perils.
Named Victoria by the Free University of Berlin, Storm Dennis affected the British Isles and north-western Europe from 15 to 17 February 2020 – only six days after Storm Ciara rampaged the same territories.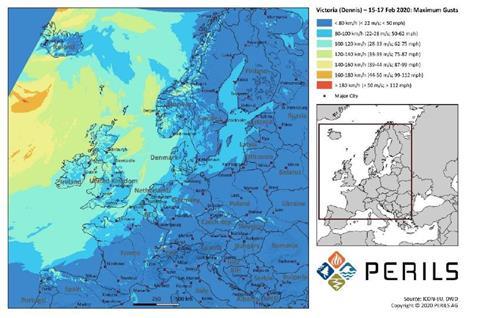 Perils's initial estimate of the insured property market loss related to Storm Dennis, based on claims data from affected insurers, is €286m. The majority of these insurance losses occurred in the UK, Germany and Belgium.
The additional record rainfall caused by Dennis further contributed to a renewed period of flooding in the UK, however insurance losses classified as floods are not included in Perils's estimate. The localised flooding incidents mainly occurred in England and Wales.
In comparison, the initial insured property market loss for extratropical cyclone Ciara is estimated at €1.5bn (£1.39bn). The majority of insurance losses here were reported in Germany, followed by the Benelux countries, France, the UK, Switzerland, Austria and Denmark.
Read more… Storm Ciara sees claims surge
Not subscribed? Become a subscriber and access our premium content