Despite the market's progress in improving inclusivity, ACIN says there is still a long way to go
The importance of the African Caribbean Insurance Network's (ACIN) Six Steps to Racial Inclusivity research paper has been demonstrated in Lloyd's of London's recent culture survey results, said the insurance network.
Lloyd's 2020 survey revealed that less than half (46%) of black people working in London believe that senior leaders create opportunities for everyone, compared to 74% of all respondents.
Plus, nearly a third of black employees included in the survey have seen people turn a blind eye to inappropriate behaviour, compared to just 15% of all respondents.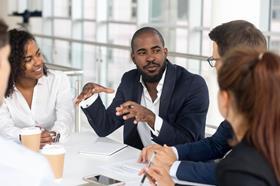 Commenting on Lloyd's culture survey results, Godwin Sosi, co-founder at ACIN, said: "All progress is encouraging. We are very pleased that Lloyd's has said it will work at 'improving the experience of black and minority ethnic talent as a top priority', but there's a long way still to travel.
"ACIN is here to provide hands-on help to any Lloyd's or London market company that wants to improve its racial inclusion by implementing [ACIN's] 'Six Steps' and to support their diversity through ACIN Recruit."
Inclusive workplaces
ACIN's Six Steps to Racial Inclusivity is based on input from 50 black professionals spanning 20 London market companies.
Some of its recommendations echo the themes identified in Lloyd's culture survey, for example creating a culture of inclusion and to develop, track and report ethnic diversity metrics.
ACIN co-founder Junior Garba added that some Lloyd's companies have already begun to implement the Six Steps by:
Implementing three-pillar ethnic diversity strategies covering learning and development, recruitment and culture.
Launching employee resource groups for black and minority ethnic employees.
Engaging diverse recruiters (including ACIN Recruit).
Reviewing preferred recruitment suppliers to drop those which fail to meet diversity standards.
Garba continued: "We're pleased that the survey revealed improvements to gender-related equality in the marketplace.
"Obviously half of visible ethnic minority people are women, so that's good news for our members. Plus, we know that a better gender-balanced workplace is typically a more inclusive one."