Underwriters face mass redundancy as machines take over, with Amazon also a big threat
Insurance tycoon Peter Cullum predicts around three-quarters of all underwriters will be redundant within 10 years as machines take full control.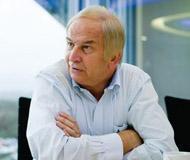 Want to know more about Peter Cullum? Read his final Towergate interview here
Cullum, who trained as an underwriter himself before founding consolidators Towergate and GRP, also says Amazon has unbelievable power with its data.
"Insurance is one business that is all about data. It's about numbers. It's about the algorithms. Quite frankly, in 10 years' time, I predict that 70pc or 80pc of all underwriters will be redundant because it will be machine driven.
"We don't need smart people to make what I'd regard as judgemental decisions because the data will make the decision for you," he said in an interview with The Telegraph.
He said insurers should be wary of Amazon, which has so much data, it could become the largest insurance company in the world if incumbents are not careful.
Cullum is currently a non-executive director at GRP after selling up to private equity firm Searchlight in a valuation understood to be around £650m.
His stake is £100m.
Smaller broker pressure
Cullum predicts the pandemic will put pressure on smaller brokers.
"As with all sectors, the stronger players survive and thrive; maybe the weaker players find it difficult," he says.
"I think this will be a bit scary for a lot of smaller brokers who don't necessarily have the technical resources to take on insurance, particularly with regards to BI [business interruption]," he said.
He also feels there has been too much 'wiggling room' from certain insurers over paying out.
"What concerns me is it's taking too long," he says. "A lot of these smaller businesses, they've got a cash crisis. They don't want to wait weeks until an insurance company decides whether they're going to pay or not," he said.
Not subscribed? Click here and get our premium content
Subscribers read more
Insurance sector will be seen as 'uncaring' due to Covid