The Grenfell Tower fire 'underlined some of the systemic failings' within the construction sector and highlighted the danger of combustible materials being used in building works
Modern methods of construction (MMC) should not be confused with the use of combustible materials, such as timber, according to Mark Farmer, founding director and chief executive of Cast Real Estate and Construction Consultancy and author of the 2016 report The Farmer Review of the UK Construction Labour Model.
Instead, the construction and insurance sectors "have some work to do in terms of squaring the circle" around "combustibility and sustainability" discussions.
Speaking at an ABI webinar on 16 June 2021, titled Insuring the buildings of today and tomorrow: Adapting to overcome changing risks and future claims, Farmer said: "It's really important not to conflate modern methods of construction with combustible materials. Many people are confusing the idea of MMC and combustibility as being the same thing. They're not.
"Modern [methods of construction are] exactly what it says – it's a method, not a material.
"We have to deconflict the issue of choosing the materials that we build with from the principles of building things in factories in controlled environments, which ordinarily should be a benefit if it's done well."
This clarification has particular pertinence for the insurance sector in terms of determining a building's risk – in some cases, MMC may help to reduce a building's risk to result in lower insurance premiums for policyholders, however the use of combustible materials could, in turn, increase premium payments due to fire risk.
One way to avoid premium upticks being applied to buildings constructed using MMC is through the use of a building passport, Farmer added – this could link to both insurance and mortgages.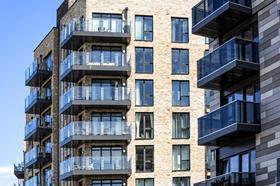 Squaring the circle
Discussing the "conflict" between MMC and combustibility further, Farmer said: "Looking at combustibility, what we have is a conflict going on between the government's drive to reduce carbon, particularly embodied carbon, and we know timber has more sustainable credentials in relation to sequestered carbon compared to cement and steel, certainly at the moment, and how are we going to use timber if it's combustible in certain instances, particularly in medium to high-rise buildings?
"We have some work to do in terms of squaring the circle of combustibility and sustainability and that needs [the] industry to pull together rather than have a fight and a pitch war between the masonry and concrete world and the timber world, which seems to be happening a bit at the moment.
"We all need to get our heads together and work out, technically, how we build with all these materials in a way that is sustainable and is safe – that's a really important bottom line goal here."
Embodied carbon refers to the CO2 that is emitted in producing materials. Carbon sequestration, on the other hand, is the process of capturing, securing and storing carbon dioxide from the atmosphere.
Systemic failings
Part of the reason combustibility is such a huge concern is because of the Grenfell Tower fire in 2017 – the event caused 72 deaths. The fire was reported to be caused by a malfunctioning fridge-freezer on the fourth floor, however non-fire resistant cladding on the high-rise building enabled the fire to quickly spread.
Farmer said this incident and the resulting inquiry "underlined some of the systemic failings we have as a sector, ranging from everything from how we procure, how clients brief and then procure buildings, through to how we design them and construct them and create them".
He continued: "All of this is really grating on public confidence and that public interaction is really important because what you're seeing in the new build housing sector, in particular, is a bit of a push back.
"You're seeing a recognition that's playing out in the media more and more, that actually poor quality [building] is no longer acceptable and big PLC organisations are being called out on it.
"That's becoming a reputational and brand risk issue for all of them, which I think they are all recognising in board rooms now and realising they have to go about things in a different way."