But Lexis Nexis says telematics could be the key to educating customers and fighting back against fraud
Research from Lexis Nexis has found that motorists are becoming more comfortable with lying to their insurers, with 43% of consumers now saying it is acceptable to omit or adjust data to keep premiums low, compared to just 35% of motorists in 2015.
Despite this, the survey found that the number of consumers thinking it is ok to commit the most serious levels of fraud has fallen to 12%, down from 13% in 2015 (see below).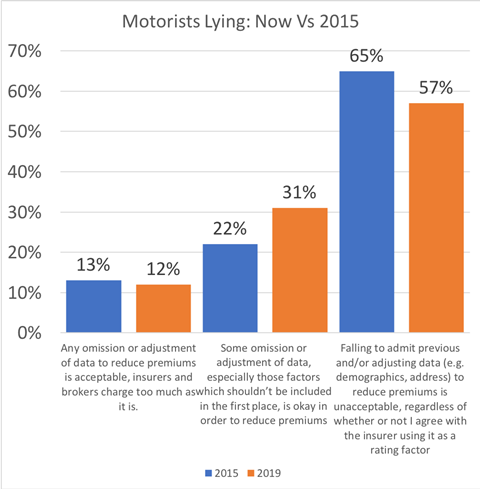 Lexis Nexis Risk Solutions senior director of motor and telematics, insurance Martyn Matthews says: "We have seen an increase in the number of people thinking it is ok to make omissions. It is younger drivers in particular who are more likely to omit information, and insurers need to work with these drivers to help them understand what their insurance obligations are, as well as the consequences of not telling the truth."
Further research from Lexis Nexis involving 3,000 customers has found that 60% of drivers would take a telematics or 'black box' policy today to save money and improve safety, despite only 5% of motorists currently having a telematics policy.
Matthews says that such policies are a great way of engaging with customers as well as educating them as to how a policy is priced and the consequences of lying about a claim.
"Telematics is a fantastic way of engaging with customers and at the same time educating them as to the benefits of safer driving, and it is also a great way of improving transparency," he says. "Our findings should provide a catalyst for the insurance sector to go beyond young drivers to offer the benefits of black box insurance products, such as the potential for money savings and improved driving habits, to a wider audience of motorists.
"Getting drivers confident in how their driving data is analysed is key. We need to be absolutely clear with customers about how their data is managed, who can access this data and when."