The biggest increase was experienced in FinPro lines with average increases of 46%
UK commercial insurance rates have climbed by 21% over the first quarter of 2020, according to the Global Insurance Market Report from Marsh.
This compares to a global average increase of 14%, with only prices in the Pacific increasing at a higher rate (23%).
The largest global increases were experienced in financial and professional liability (FinPro) lines (26%) and property insurance (15%), while casualty rates also rose 5% over the quarter.
Meanwhile, UK FinPro rates rose by 46% over the quarter, with property insurance climbing 10% and casualty 5%.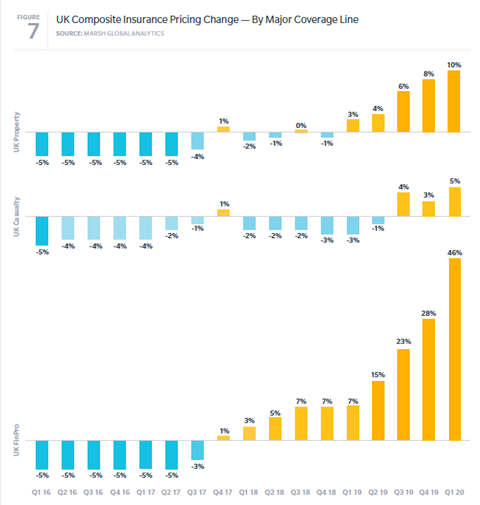 The most recent increase marks 10 consecutive quarters of increasing commercial lines prices, but Dean Klisura, president, global placement and advisory services at Marsh, said the coronavirus pandemic is likely to affect pricing going forward.
"Pricing was trending higher in the first quarter, prior to any meaningful impact from losses associated with Covid-19," he said. However, Covid-19 will likely have an impact on pricing for the balance of 2020."