After a tough couple of years, chief executive Paul Geddes has reason to be cheerful, with a turnaround in profits so far in 2011. But the clock is ticking on his next challenge: floating or selling the business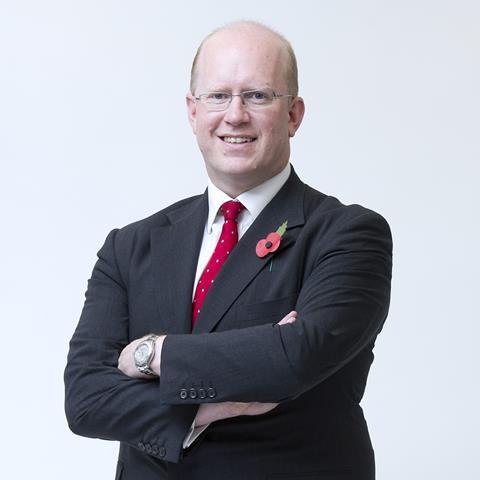 Things must be looking up at Royal Bank of Scotland Insurance (RBSI): after much toing and froing with his communications team, chief executive Paul Geddes has finally agreed to throw himself into the journalistic deep end.
A fired-up Geddes pumps hands enthusiastically on greeting Insurance Times, pours coffee, happily chats and settles on the sofa on the seventh floor of his Bromley offices overlooking the leafy suburbs of Kent.
Geddes has good reason to be upbeat: RBSI has pulled in a £123m third-quarter profit in 2011, compared with a £33m loss in the same period last year. On the face of it, the bank-owned insurer seems to be moving in the right direction for its planned sale, most likely by a minority flotation in 2012 and another tranche floating in 2013.
A rough ride
It wasn't always like this. Geddes landed the top job in August 2009, a year in which profits fell 90% compared to 2008, to £58m. Worse was to come in 2010 as injury claims bought RBSI to its knees. The insurer racked up a £295m loss and shut down the personal lines division of NIG, much to the chagrin of brokers. Did he know what he was taking on?
Geddes starts with a bit of background, about previous experiences in senior roles at Kingfisher, Gus Group and head of retail banking at RBS, no doubt keen to stress his credentials.
I guess my first year, in retrospect, was a very good way to get to know insurance"
But the Oxford University graduate didn't have much general insurance experience before landing the massive job as head of the UK's largest personal insurer. He recalls: "What transpired was the bodily injury tsunami hit the industry, and hit us. I guess my first year, in retrospect, was a very good way to get to know insurance. So, I've seen a lot of development curves and had discussions and reviews on reserving, bodily injury, lawyers, and on PPO (periodic payment orders) and Ogden.
"This gave me a very, very quick induction into the business. I've spent far too much time with too many actuaries."
Geddes speaks quickly, gesticulating energetically when he's in full flow, and occasionally slips into business buzz­words. But humour plays a part too. When pressed about his past-time of playing in an orchestra, Geddes shows a dry wit that must have provided light relief in last year's darker moments. "I wouldn't want to publicise it for fear of getting the venue overrun by fans," he quips.
Plan of attack
While Geddes' first year in the job must have been a huge strain, especially with the negative publicity surrounding the bank's state bailout, he doesn't show it. Instead, he has the confident air of a general leading his troops.
At the heart of his battleplan to transform the business has been a clear-out of management and replacement with his own personnel. Two big changes were in claims and personal lines.
Steve Maddock, who left RSA to become managing director of claims in February last year, and is described by Geddes as a 'legend in claims', was parachuted in to clamp down on fraud and stem the tide of bodily injury losses.
Another key recruitment was former Halifax Bank of Scotland Insurance managing director Tom Woolgrove, who joined in April last year to head up personal lines. The duo brought down loss ratios to 72% in the first nine months of this year, compared with 93% in the same period last year. Helped by market rate rises, combined ratio was 101% against 121%.
Meanwhile, Geddes has worked tirelessly to simplify RBSI's once-byzantine structure. Around 2,000 jobs are going, offices cut from 38 to 15 and, so far, 10 buildings have been closed.
A lower cost base means the insurer can again compete with rivals such as Admiral that have swiped millions in premiums from RBSI. "I respect what they've achieved," he says after a pause, but adds that RBSI has purposefully shed customers in return for stability.
Persuading the City
This has all played out positively in this year's results, but it is analysts and institutional investors that need convincing if RBSI is to get the City onside. He must convince them that RBSI is not up to its old tricks of piling on volume at any cost.
"We're not chasing the vanity of volume for volume's sake," Geddes stresses. "The roundtable feedback [from RBSI's investor presentation day] was that people thought we had done a good job of strengthening reserves - and the more quarters that we don't have any surprises, obviously, will add to the confidence."
We wouldn't be merging NIG into the whole business if we had plans to hive it off"
There is also the rather thorny question of NIG, a commercial lines broker-only insurer sitting in a family of direct personal lines insurers. Both bankers and analysts privately wonder whether it will be better to hive the business off prior to the planned flotation.
A piqued Geddes leans forward, his voice rising as he speaks at a slower and more deliberate pace for emphasis. "The only reason I get frustrated is that we've answered this question truthfully and consistently since I've been here.
"We wouldn't be merging NIG as a separate underwriter into the whole business via a very complicated and time-consumingly expensive process if we had plans to hive it off. We see the value particularly in the 'S' of 'SME' where we have a lot to bring to the marketplace."
Another day, another rumour
Speculation is doing the rounds that private equity house CVC has offered £4bn for the business.
Geddes has no time for the gossip. "We think the right planning assumes an IPO. We think it's the most likely, but it's not the only option. What we can't afford to do is be distracted by every rumour. We have a lot to deliver, we know what we have to do, and we're cracking on and doing it."
And once this highly publicised sale is over, will he stay on in insurance? "Absolutely," he enthuses. "I enjoy the industry. I enjoy the competition because it's a ferociously competitive marketplace, but it's also a great profession."
With that, the interview is over and Geddes must race off. He has clearly relished talking about his business, which is just as well because, with a multibillion-pound stock exchange listing around the corner, he'll be facing plenty more questions over the next 12 months.
Snapshot: The man
Age: 42
Home town: London
First employer: Proctor & Gamble
Family: Married with two daughters
In his own words: 'I enjoy the industry because it's a ferociously competitive marketplace, but it's also a great profession'
The company
Ranking: UK's 3rd largest insurer
GWP: £4.3bn
Employees: 16,400
Market view: After a poor 2010, RBSI is producing strong results once again. Now it has returned to stability, many wonder whether the insurer will be tempted to go for volume at the expense of underwriting profitability.