The Backchat Insider has been enjoying the high life, thanks to the pulling power of a certain insurer boss …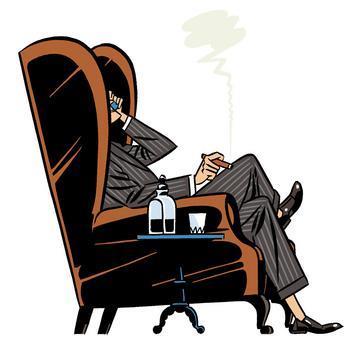 Bubbly for Bathia
I always like a bit of bubbly, so I was delighted the other day when QBE's Ash Bathia presented me with an ice bucket containing a bottle of Laurent Perrier. It emerged that Bathia didn't even dip into his pocket for the champagne: it was sent over by two attractive ladies across the room who also hail from the world of insurance. I have no idea why they sent over the fizz, but perhaps it's true - power is the ultimate aphrodisiac.
Table-top sale?
One of Zurich's more notable employees is ex-US president Franklin D Roosevelt, who worked for Zurich forebear Fidelity & Deposit in the 1920s. Zurich has given the fellow's 300lb walnut desk pride of place ever since, and is only now choosing to say goodbye - by donating it to a museum.
Knockin' on Cameron's door
So the great and the good of the UK insurance industry got to meet the prime minister last week, and I hear all went swimmingly. But the infrequency with which insurance chief executives get to visit Number 10 was clear to see. AXA's Paul Evans, for example, was reliably informed that the portal to Dave's den would open automatically. Instead, on arrival at the doorstep, the door remained stubbornly shut for our Paul, until the friendly bobby on duty discreetly informed him: "You have to knock on the door, mate."
Not a crumb of info
It has come to my attention that the ABI was advising insurers not to say too much about proceedings at the Downing Street summit. But not only does it seem that several insurance bosses didn't get this memo, neither did the PM. Dave, or more likely one of his minions, plastered the full details on his website the next day, along with a full list of attendees. Mind you, no one has been willing to satisfy my curiosity about what refreshments were served, so perhaps the ABI's advice was just more specific, and indeed more heeded, than I realised.
Brown v Homer
I met up with old pal and Managing General Agents' Association chairman Reg Brown the other day to talk about his plans for the trade body. I asked Reg how he saw Biba chairman Andy Homer's announcement that MGAs could join Biba too. "Andy is an old sparring partner of mine," Reg replied. "We're great mates - but we had an exchange of emails, of course."
Mystic mugs
I've been in insurance for many years but looking to the stars to work out who makes the most claims is a new one on me. I was amused to hear that Taureans make the most costly travel insurance claims, with Capricorns the least likely to claim, according to travel insurer Mondial Assistance. And I thought Taureans were supposed to be cautious.