Lark's Stephen and Graham Lark talk about what it means to have completed the buy-out from parent Groupama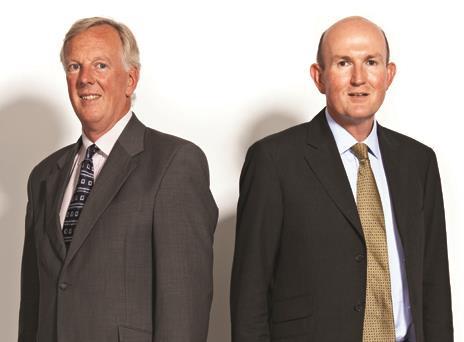 The Larks are running late. Twenty-five minutes late to be exact. But that is almost excusable given they have just come out of their first board meeting since successfully completing their management buy-out (MBO) from parent company Groupama after months of uncertainty.
Insurance Times is in the 8th floor offices of Lark Insurance in the Minories in the City to talk to the Lark cousins - chairman Graham and managing director Stephen - about the deal, the challenges they faced and what it means to the company.
But let's start with how Lark got here in the first place. Groupama SA put its UK broking assets and insurance arm up for sale at the start of the year after taking a €1.8bn (£1.42bn) hit from the eurozone debt crisis last year. Lark was the first part of the business to be sold earlier this month, while fellow brokers, Bollington and Carole Nash, are still up for grabs. A number of bidders have been linked to the insurance operation, including private equity firms JC Flowers and Charterhouse, and brokers The AA (part of Acromas) and Gallagher.
All about Lark
But today it is all about Lark. The company was formed in 1948 as a Lloyd's broker and has grown into a business with 300 staff and six offices. It was part-owned by Sedgwick between the late 1960s and 1999, before being acquired by Groupama five years ago.
Today the broker is highly regarded as a consistent performer, and made a profit of £3.6m in 2011 amid challenging conditions for the broker market. The full-year 2011 profit was about double the £1.8m reported for the previous nine months of 2010. Lark reported only nine months for 2010 because it changed its financial year-end to 31 December from 31 March.
We made it clear that our preferred route was to do the MBO"

Graham Lark
Together, the Lark team make a good double act - Graham with his frank and direct style and Stephen with his more measured approach.
Graham, who does most of the talking, says Lark's reaction to being put up for sale was influenced to a large extent by Groupama's well-publicised financial problems.
"While we had a perfectly good relationship over the time Groupama had its shareholding with the guys here in London, the kind of constraints it was operating under vis-a-vis its financial position meant we were under the same kind of constraints by virtue of being part of the group," he says.
"We therefore saw the fact that it had decided to sell its UK businesses as an opportunity to start afresh, and we decided that we would look to pursue the MBO."
Unsettling
Stephen says Groupama was mainly an investor and had little influence over the day-to-day running of the business, but even so the sale was still unsettling.
"Clearly the announcement in January did cause some degree of unsettlement for people, but we made it clear that our preferred route was to do the MBO and I think people trusted us to deliver that," he says.
"We have not really seen any fallout of reaction over the seven months that the situation existed."
Graham maintains that Lark has always had a good relationship with Groupama UK chief executive François-Xavier Boisseau, but it was never the case that Groupama would put business Lark's way. He says Lark was 100% focused on its MBO, but it was ultimately up to Groupama as to whom it sold the business.
A number of partners
Fenchurch Advisory Partners advised on the MBO and Lloyds Bank provided the financing for the deal, while Hiscox took up a minority investment position. Lloyds and Hiscox were just two of a number of partners that Lark spoke to, but the broker selected them over the others based on their proposals and their previous relationships with them. In Hiscox's case that relationship goes back 25 years.
When asked about the cost of the deal, Graham says the terms of the transaction are confidential.
Groupama bought a stake of just over 80% in Lark when it acquired the business in 2007 and now ownership has reverted back to the six members of Lark's management team, including Graham and Stephen Lark.
Seven non-executive directors resigned from the board of Lark Group (Holdings) Ltd following the conclusion of the MBO, including Boisseau, Andrew Hunter, Pierre Lefevre, Michel Matras, Paul Picknett, Ray Sampson and David Simpson. Matras and Picknett had only joined the board this year.
Hunter also relinquished his duty as company secretary, with Carl Brown stepping in and now reporting to Lark's finance director. Hiscox has brought in its outgoing Bermuda chief executive Charles Dupplin to sit on the board. Lark has no plans to replace the directors who have left.
Sense of relief
Fast forward to today, and Stephen says there is a sense of relief among staff now the MBO has gone through and the uncertainty is over.
Asked whether they would do anything differently or even consider being bought again evokes a laugh from Graham. "Having just completed an MBO, I think being acquired is not even on the agenda," he says.
Lark made three acquisitions during its time under Groupama and plans to continue in that vein, according to Stephen. He says its most recent acquisition, Cadogan Hanover Park, which was bought from Barbon for a book value of £3.1m a year ago, has bedded in well.
The acquisition added £606,610 to Lark's total 2011 revenue of £19.5m.
Like most brokers, Lark has been dogged by lower demand and premiums, and a low interest rate environment, particularly in commercial. By contrast, says Stephen, private client has done well thanks to a strong focus on niche areas and schemes.
"Once everybody is back off holiday we will sit down and give some serious thought to future plans, but fundamentally it is going to continue as before," Graham says.
As with everything the Larks do, having successfully completed their MBO, come Monday morning you can be sure it will be business as usual.
THE MAN: Stephen Lark
Age: 46
Hometown: Hever, Kent
Family: Married with three daughters
Interests: Golf, cricket, tennis, running, watching rugby and Chelsea FC
In his own words: 'We have not really seen any fallout of reaction over the seven months that the Groupama sale situation existed'
THE MAN: Graham Lark
Age: 53
Hometown: Canterbury
Family: Married with two daughters and a son
Interests: Golf, sailing, skiing, tennis and travel
In his own words: 'We saw the fact that Groupama had decided to sell its UK businesses as an opportunity to start afresh'
THE COMPANY: Lark Insurance
Ranking: UK's 39th largest broker
Brokerage: £21.5m
Employees: 300
Market view: Having completed its MBO, Lark will be focusing on retaining its commercial customer base while continuing its successful strategy on the private client side