Gibraltar continues to play a large part in the UK insurance market, benefiting from a historically low expense base and an open regulator that provides unparalleled access to decision-makers
Gibraltar is a big player in the UK motor market, with Gibraltarian insurers writing £1.2bn in net earned motor premiums, according to calculations by Insurance Times from the most recent set of Solvency and Financial Condition Reports (SFCRs), with 92% of that coming from the UK.
Big motor players such as Admiral and Markerstudy operate from the Rock, with many insurers drawn to the territory by the openness of the regulator and the ability to operate from a lower expense base.
Gibraltarian insurers continue to benefit from a lower expense ratio than their UK counterparts, according to Insurance Times's comparative analysis of the Gibraltarian motor market with that of the aggregate position of a basket of leading UK-based motor insurers*.
For 2017/18, the Gibraltarian motor expense ratio stood at 23% (2016/17: 21%), compared with 28% (2016/17: 28%) for their UK rivals.
Gibraltar has also fared better when it comes to claims, with the aggregate motor loss ratio for the market improving by 11 percentage points to 62% for 2017/18, compared with 73% for the previous year.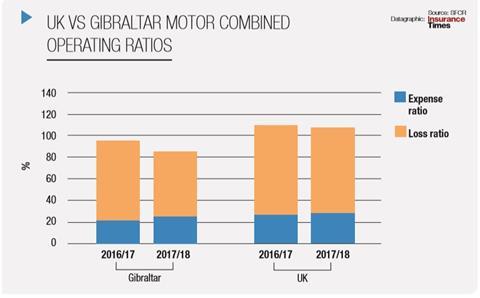 This is once again below the 78% loss ratio reported for 2017/18 by the UK motor insurers in this analysis, meaning that the overall motor COR for Gibraltar is not only profitable, but it is now also 21 percentage points lower than UK-based motor insurers (106%).
AA leads the pack
With the continued high performance on the Rock, more than half of the 19 motor- writing insurers in this report turned an underwriting profit.
Ten insurers achieved a sub-100% COR in their latest SFCR, with AA Underwriting reporting the lowest ratio (excluding those that reported negative ratios as a result of reinsurance arrangements).
AA Underwriting reported a motor COR of just 56% as it continued to grow its book of business in its second year of trading.
The insurer wrote a total of 222,000 motor policies for the year ending 31 January 2018, compared with 115,118 the previous year.
The insurer cedes a lot of its motor book to reinsurers, with 80% of its motor business now co-insured after the expiration of an 80% quota share deal on 19 April 2017. The insurer also has "excess of loss cover for any individual loss on a 'risks attaching basis' which, before quota share reinsurance, exceeded one million pounds".
Steady sailing for Admiral
Admiral's Gibraltarian arm also fared well, reporting a motor COR of just 60% off of net earned premiums of £328.9m. This is a 28-percentage-point improvement on the previous year when the insurer reported a motor COR of 88%.
This uptick in performance was largely driven by a 25-percentage-point improvement in the insurer's loss ratio, although the insurer said that was also "lower than we would typically expect to report as the claims incurred numbers include prior-year releases on both Admiral's original net share and reinsurance that has since been commuted".
But Admiral also benefited from a three-percentage-point drop in its expense ratio to 18%, making it the second lowest expense ratio in Gibraltar (excluding those expense ratios at 0% or below). In its annual report for the year ending 31 December 2017, Admiral chief executive
David Stevens wrote: "Over most of the last 20 years our costs have been lower than our competitors by at least 10 percentage points of premium. That's the equivalent of £50 less expense for a typical policy, and over £200 less for a higher premium policy."
Still steady as a rock?
But with the recent uptick in expenses across the aggregate position in Gibraltar, as well as the end of the Solvency II transition period for many insurers, it remains to be seen if Gibraltar will continue to deliver the cost savings that insurers operating out of the country have historically benefited from.
*Aggregate motor position for the UK calculated using SFCRs for Ageas Insurance, AIG European Group, Allianz Insurance, Aviva Insurance, AXA Insurance UK, Direct Line Group, LV= Group and RSA Insurance Group.