E-trade spreads through SME market
More small business policies are being brought to market for e-trading each year. While some providers have come and gone – AA scrapped its shops and tradesman policies, underwritten by AXA, after 2009, for example – the overall trend is for e-commerce.
Brokers are increasingly sourcing quotes and binding cover using e-trading platforms. However, every policy that becomes available for e-trading via brokers is also very often available through other intermediaries like aggregators, or increasingly direct from insurers' websites – minus the cost of commission.
"Brokers are coming under attack in micro policies," Defaqto general insurance analyst Mike Powell says. "It's a challenge for them. It's not at the same stage as personal lines yet, but that's coming. The market has become more commoditised at the micro end: sole traders can buy insurance online."
In some commercial lines, brokers may be facing a double whammy. "If brokers are being beaten on price as well as cover, they need to go back to carriers and say: 'I need better cover'," Powell says.
Products offered through the direct channel tend to rate higher on cover than traditional SME products, according to Defaqto Star Ratings. However, Powell does not expect the same penetration of direct sales for more complex commercial risks.
"In the medium and corporate markets, brokers are still king. While for car and home you might use price comparison sites, for business it's completely different because it's your livelihood."
Step-change in policies available for e-trading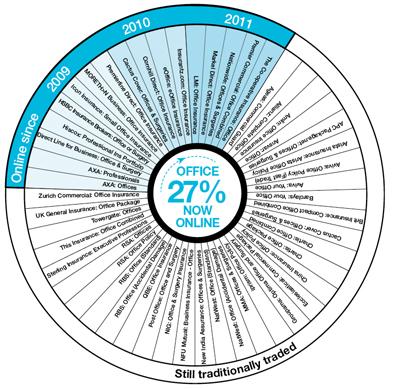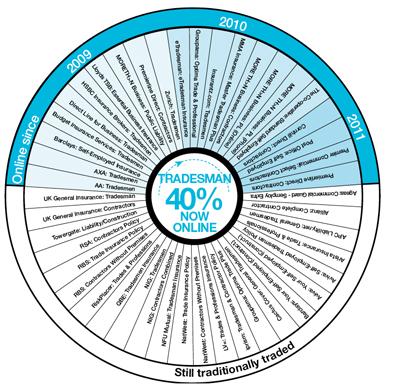 The rush to trade online
The majority of insurers are e-trading commercial in some way. Extranets are a big competitive advantage, and investment in these is expected to pick up pace during 2011. Trading platforms also report continued effort to sign up insurers and develop systems and services.
Aviva said that 90% of commercial packages are processed by its online trading platform Fast Trade, and boasts 8,000 regular broker users. ACE reported 65% of its policy count is now transacted through ACE Online, with 2,500 live brokers. Chartis has 2,000 active users, while Chubb – with 1,500 users across 150 broker firms – handles 70% of submissions online. NIG claims to be trading 80% of business online "in some form".
Among the trading platforms, Open GI claims 40% share of the UK broker market: its top 100 brokers transacted £1.1bn commercial lines GWP in 2009. PowerPlace has grown GWP from £15m in 2009, to £48m in 2010. SSP said micro-SME business rose 400% last year.