Panellists at the Insurance Times Knowledge Live event criticise excessive European legislation
Brokers are being hampered by legislation from Europe, according to delegates at the first Insurance Times Knowledge Live event of 2014.
The topic of the event, 2014: a year for regulatory change, sparked numerous debates on the issue of regulation, with European legislation high among them.
When asked about the suitability of European legislation to the UK marketplace, 81% of brokers at the event said it interfered with the way the market operates (see below).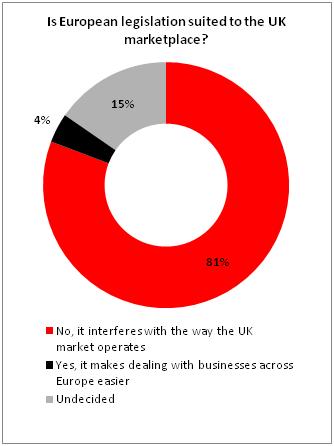 Sitting on the panel at the event, Broker Network chief executive Gary Duggan said European legislation was often difficult to understand for smaller brokers.
"Speaking on behalf of smaller brokers, they have enough trouble dealing with UK legislation, let alone European legislation," he said.
And Biba chief executive and fellow panellist Steve White said European legislation could often have too much influence on UK regulation, but that Biba was working with the government to reduce the influence of the EU, especially regarding the issue of passported insurers.
"There are currently about 20 directives under design or review that will either directly or indirectly affect you," he said.
"Treasury are currently working on a piece of work called Balance of Competencies," he added. "This is to help ministers when they start renegotiating Britain's position within Europe.
The FCA is a well respected regulator, and it punches well above its weight on the European level'

Steve White, Biba
"The Treaty of Rome currently prevents the regulator stopping any company with a passport to operate in the UK. We are saying that as part of that review, our regulator should be able to stand on the white cliffs of Dover and turn away those [passported insurers] that are not up to scratch. The reputational damage is disastrous when these fall over.
"We are on the case on that one."
However, White was keen to point out that the FCA was well respected on the continent, despite the UK government being marginalised on the European platform.
"The FCA is a well-respected regulator, and it punches well above its weight on the European level," he said. "The FCA gets listened to much more than the other states.
"We are marginalised at European parliament level though. The ideal position for the UK to try and get in the next European parliament would be the Internal Markets position, but we sacrificed that to get the deputy president position – but that's more ceremonial. We are not pitching for the right jobs at the moment."
"The FCA is onside, well respected and well regarded, but politically in parliament we could do more," he added.