The discussion at the Knowledge Live event in The City centred on six big questions. Here are our panellists' answers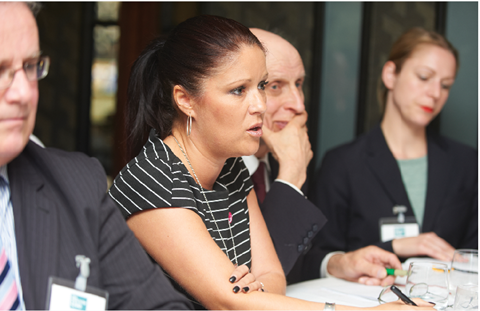 Q How do geographic trends in claims data imply that fraud is present?
"There are strong geographic trends in the frequency of third-party PI claims compared with other claims instances. This suggests that false claims may be happening in some areas."
"If there are significantly more third-party injury claims in a particular area, but not more third-party damage claims, it sets alarm bells ringing."
"In Cambridge, which is not considered a fraud hotspot, there are 28% more third-party injury claims than there are third-party damage claims. In east London, there are 57% more third-party injury claims than third-party damage claims".
Q What are the patterns related to mileage data that point to fraud?
"In some cases, customers giving lower estimated mileages on application turn out to have a considerably higher third-party claims frequency."
"Drivers younger than 40 who say they do less than 2,000 miles a year are statistically more likely to claim than drivers who say they drive a higher mileage -
a counter-intuitive fact."
"Drivers older than 60 who say they drive less than 2,000 miles a year are less likely to claim than any other group."
Q What steps can brokers take to protect against fraud?
"Put customers through a validation process to identify any non-disclosed claims and strengthen the customer profile."
"Focus on collecting the detail about customers - the better the information captured at application, the more accurate the price for the risk."
"Regional brokers who still have presences on the high street can pick up on indicators of lying, such as fidgeting or avoiding eye contact."
Q Who do consumers think are to blame for the prevalence of personal injury claims?
"Among consumers surveyed, 39% said that dishonest drivers were most to blame for claims frequency going up."
"Further, 75% of consumers believe that insurers should refuse to pay PI claims unless a medical report is produced."
"The majority, 40%, of consumers think that insurance companies are best placed to resolve the problem of false PI claims."
Q Will the government's initiatives on motor claims rid the motor market of its dysfunctions?
"The focus on fraud needs to beware throwing the baby out with the bath water; we don't want to stop people from making genuine claims."
"About 30% of whiplash claims are false. The key is to target that 30%, but to leave the 70% genuine claimants alone."
"The government should make objective medical evidence a legal requirement for personal injury claims, and check that the injury has had a genuine effect on the claimant."
Q What steps has IFED taken in the fight against fraud so far?
"The bulk of staff hired by IFED are police, and they are out arresting people."
"IFED has found that insurance fraudsters often have links to organised crime. At least three of the jobs on its books at the moment have links to terrorist groups."
"One of IFED's recent successes was a ghost broking case. Ghost broking - or fronting - has become a big area of focus for IFED."
"IFED is tackling a lot of high volume, low value insurance fraud, charging people who might not normally be suspected of a crime. One example is of a teacher who scammed his pet insurance for around £500."