What are the knock-on effects brokers are likely to experience from Solvency II?
As providers of data and advice to underwriters, they will need to improve risk management and data capture techniques. We asked them how aware of the changes they are, whether they've taken action, and what they think about it all.
1 Has Solvency II been discussed in your firm?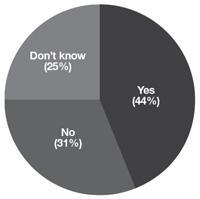 The majority of brokers (56%) say there haven't been any Solvency II discussions at their firm, or they're not aware of any. This chimes with the commonly held view that brokers will be largely unaffected by Solvency II. In fact, many brokers will be expected to improve the quality of the risk data they provide to insurers. Motor business is likely to require a step up in data collection, for example. Forty-four per cent of respondents have been part of Solvency II discussions within their firm.
2 Are you aware of a need to improve data capture and analysis in relation to Solvency II?

Solvency II will place much tougher demands on the accuracy and appropriateness of data. The largest group of respondents (44%) said they were switched on to what Solvency II will mean for them in terms of data quality. Still, 56% are unaware, either not seeing an issue ahead, or being uncertain if one does or does not exist.
3 Have you made changes to data capture and analysis systems in preparation for Solvency II?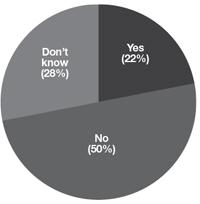 Insurers will have to demonstrate that the broker-generated data they use is as robust as any internally sourced data. Although 44% of brokers are aware of a need to improve data capture (see above), only 22% have so far taken steps to make this happen. This suggests that the required changes could be in the planning stages at some firms. Half have not yet made improvements to the risk data and advice that they provide to insurers.
4 If you have delegated authority, have you taken steps to improve risk analysis techniques?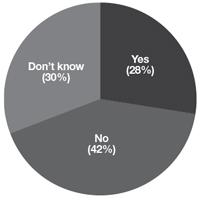 The demand from insurers and the FSA for improvements to risk evaluation and data provision will be in sharp focus for brokers with delegated authority. Twenty-eight per cent of respondents with delegated authority have already raised the bar in capturing and managing risk information. However, 42% have taken no steps so far in this regard, while 30% don't know what their firm's strategy is one way or the other.
5 Do you think the demands of Solvency II will drive further consolidation among brokers?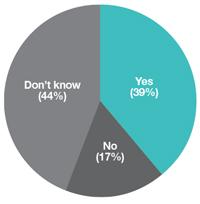 The amount of people and technical resource required by some brokers to meet the demands of Solvency II means it could end up favouring larger broking firms that are able to share the costs across their business. In turn, this has led to predictions that the regulation will drive further consolidation in the broker market as smaller firms get swallowed up by larger groups. Over one-third (39%) agree that this is likely to happen, while far fewer (17%) hold that it won't. The largest group (44%) are unable to predict what they think the impact on M&A activity will be.
6 Which best describes your attitude to Solvency II?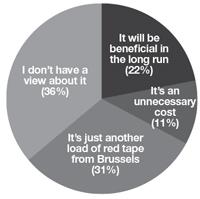 With many brokers not directly affected by Solvency II, 36% say they have no views about the regulation. However, 31% view it as interference from Brussels, 22% think it will be beneficial in the long run, and 11% see it simply as an unnecessary cost. No one voted for the fifth option: "It's an opportunity to steal a march on my competitors."
Views
What one regulatory change would support you in building your business?
"Reduction of certain documentation we have to provide for clients – they do not welcome it or read it!"
"No changes for five years would help us come to terms with the constant regulatory changes we have to deal with."
"Make the regulator responsible for its actions. The creator of regulation must not be allowed to absolve itself from the consequences of those regulations."
"Separate insurance from banking and simplify the rules."
"Subcategorise general insurance brokers who do not handle PPI, so we are not penalised with high fees."
"Enforce professional qualification requirements for customer-facing staff."
"A reduction in the ridiculous amount of paperwork we have to do."