Limits for the M&A cover have increased by 155% over the last three years
Transactional risk insurance for help with mergers and acquisitions (M&As) is growing in popularity, according to research by Marsh.
Global appetite for the product has increased by over a quarter over the last 12 months, with the insurance limit placed by Marsh up by 26% over the last 12 months.
While Asia Pacific saw the biggest relative growth over that period (83%), the Europe, Middle East and Asia (EMEA) region still boasted growth of nearly one quarter (24%).
Furthermore, global limits placed by the broker have grown by 155% over the last three years, totalling $5.1bn (£3.1bn) in 2013 (see chart below).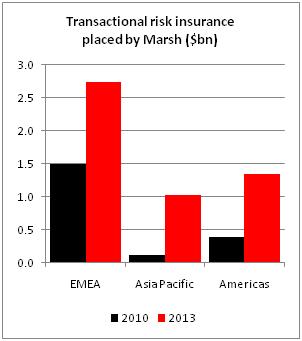 Marsh head of the UK transactional risk team and senior vice president Lorraine Lloyd-Thomas said the increase in popularity was as a result of the natural development of the transactional risk insurance market as well as the emergence of more deals being transacted in new regions.
"The development in the market over the last 12 years has been phenomenal," she said. "The growth in the limits we have been placing in the market have been very dramatic, particularly over that three year period.
"The global breadth of this type of insurance [is much greater now]. When I first joined the market [12 years ago] it was focussed on Western European transactions, particularly in the UK, and also US transactions. The underwriters were comfortable in those jurisdictions. What we've seen over the last decade is a real push of the market into some of the new territories."
And Lloyd-Thomas added that increases in the number of capacity providers and falling premiums had also resulted in companies being more open to purchasing the insurance.
"Even for the most benign vanilla UK transaction it would not be uncommon to see rates of 4% or 5% of the limit being purchased [12 years ago]," she said. "These rates have now come down, particularly over the last couple of years. For EMEA last year, the average rate was around 1.55%.
"We used to talk about having four or five insurers in EMEA about ten years ago. Now, we are probably looking at in excess of ten [providers on a primary basis]."