Homeserve UK's chief executive Jonathan King is refreshingly honest about his company's failings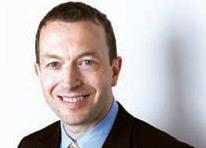 Jonathan King wasn't expecting to have to turn a business around.
He rejoined Homeserve's UK operation as chief executive in late August 2011, after successfully running the emergency repair and insurance provider's US unit for six years.
A couple of months after King's arrival, the company that once dubbed itself the 'UK's fifth emergency service' discovered that it had to make urgent repairs to its own sales, marketing and governance departments.
On 31 October 2011, Homeserve announced it had suspended all telephone sales and marketing activity in the UK after a month-long review revealed cases where its sales processes "did not meet the company's required standards".
Then in May this year, the company said that the FSA was investigating "certain historic issues" at Homeserve. The investigation continues, and it is unclear when it will end.
The resulting bad publicity following these events was potentially disastrous. Losing customers was only part of Homeserve's worry. Its emergency repair policies and services are sold through big brands such as Thames Water and Mira Showers. If these companies ditch Homeserve, the damage could be irreparable.
King quickly suspended Homeserve's UK sales to allow it time to retrain its call centre staff. He has since taken a range of actions to strengthen the business and allay customer concerns. But what went so wrong? And are the actions taken enough to restore customers', partners' and the regulator's confidence in Homeserve's UK operation?
Trying too hard
Despite once being the group brand manager for high-street chemist Boots' No. 7 line of cosmetics, even King would struggle to make what he found at Homeserve UK on his return look pretty.
Fortunately he doesn't try. The polite and un­assuming chief executive is disarmingly honest about his company's past failings. He admits to being "disappointed and a little bit surprised" on finding the problems at a company he ran as managing director before departing to the US.
The problems started with the exceptionally cold winter of 2010/2011, when the company's call centre struggled to cope with the volume of calls. They also struggled to get contractors out to customers in acceptable timeframes - partly because of the weather.
When the complaints inevitably rolled in, the company couldn't cope with the volume. King says: "We are conscious that the complaints were just not dealt with as thoroughly as they should have been. That was the first thing that came to the attention of the regulator."
On top of this, the company found that in a small number of cases, its larger, more complex combined products had been poorly sold over the phone. King says: "There were cases where customers weren't really sure what they were getting, and what price they were going to be paying."
According to King, Homeserve's difficulties stem from the company trying to grow too quickly to impress shareholders.
"We set sales and profit targets that were perhaps a little too stretching. We allowed ourselves not to focus enough on the way we control and govern the business," he says. "I would say most of our problems were caused more by naïveté than by ill-intent."
The action plan
In addition to the sales and marketing suspension in November, which King insists the company did without prompting from the FSA, Homeserve agreed to a 19-point action plan with the regulator. This includes re-contacting customers who were sold the larger combined products, strengthening compliance teams and overhauling the compensation structure. It has already tackled 17 points on its 19-point list.
Staff incentives are now based 50% on sales and 50% on customer satisfaction, rather than just sales. New non-executive directors have also been hired at the company's UK legal entity, Homeserve Membership, to strengthen compliance.
Proactive changes
In addition to the FSA action plan, Homeserve has made changes to ensure the smooth running of its operations in bad weather, such as investing in 4x4 vehicles to get both call-centre staff and contractors to where they need to be.
The remedial work has not been all plain sailing, however. The company doubled the estimated cost of the remedial work to £20m from £10m in February, and has had to cut 400 jobs at its call centres.
But the changes seem to be working. Despite customer numbers falling to 2.5 million in the six months to 30 September from 3 million in the same period last year, complaints had fallen by 42% at the half-year stage, and customer dissatisfaction is now down to 7% from 12% a year ago.
I would say most of our problems were caused more by naïveté than by ill-intent"

Jonathan King, Homeserve
But perhaps the biggest endorsement is that Homeserve has not lost any of its partners.
Uncertainty still hangs over Homeserve's UK operation. The FSA investigation is still not complete and it could result in a fine.
Also, while confident that customer retention will rise to its historic levels of more than 80% and the business will eventually start growing again, King is reluctant to say when.
He does believe, however, that the changes he has made have strengthened what was already a fundamentally solid business.
If Homeserve can keep its focus, it could pull off the most difficult of feats: pleasing clients, the regulator and shareholders at the same time.
Homeserve UK's Three Challenges
● Dealing with the outcome of the FSA investigation to minimise any further reputational damage.
● Returning to growth in customer numbers and revenues without losing customer focus.
● Striking the balance between delivering good customer service and keeping costs under control.