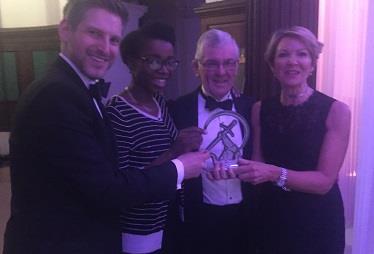 Insurance Times Fraud Charter won The Best Campaign in the Public Interest – Press award at the CII Public Interest Awards last night.
Receiving the award [pictured] from left to right are: Insurance Times brand editor Martin Kornacki, senior reporter Ima Jackson-obot, Covéa head of financial crime Steve Jackson and Carpenters Law partner Donna Scully.
Fraud Charter member MIB chief executive Ashton West was also a big winner on the night after being presented with The Achievement Award.
He was recognised for making a significant impact by championing issues of public interest.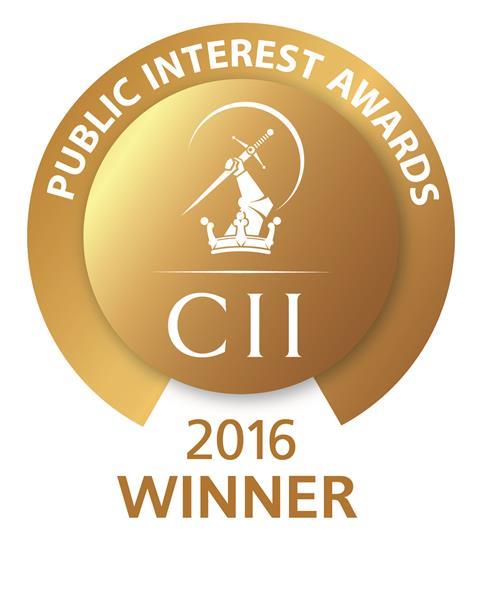 The Fraud Charter has come a long way since its early beginnings.
What was once a small group of fraud specialists sitting around a table has evolved into a cross-industry group that is effecting real change and creating tangible outputs.
The premise of the Fraud Charter is to share insight and ideas among bodies that once worked in isolation to combat insurance fraud.
At the quarterly meetings, claimant solicitors sit side-by-side with defendant solicitors, insurance and broking fraud directors, investigators, government officials, law makers and counter-fraud technology specialists.
And, together, the 25+ members debate and discuss pressing issues to present a more holistic picture of insurance fraud.
Before the Fraud Charter this kind of forum did not exist.
Key achievements include:
CII Public Interest Awards 2016 Award for Best Campaign in the Public Interest – Press
ABI fraud and financial crime manager Mark Allen using ideas discussed at the meeting at the working group on application fraud
Creation of the Fraud Report in 2014 and its continued publication
The growth of Fraud Charter membership
The attendance of key government officials, including Transport Select Committee chair Louise Ellman, Claims Management Regulator head Kevin Roussell, the MoJ's head of civil litigation funding and costs Robert Wright, and former Law Commissioner and Insurance Fraud Taskforce head David Hertzell
In its early days the Fraud Charter was led by David Blackman, then Insurance Times deputy editor, who handed the reins to Jessica Reid, then Insurance Times managing editor. The Fraud Charter roundtables are now chaired by brand editor Martin Kornacki, while editorial support is provided by senior reporter Ima Jackson-Obot.
The quarterly event and editorial output is a team effort that includes the Insurance Times editorial, events and commercial team.
Past contributors include finance editor Ben Dyson, ex-news editor Elinor Zuke and former digital insights editor Matthew Scott.
The roundtable would also not have gained the relevance it has without the support and input of loyal members across the insurance sector.
Insurance Times would also like to thank the Fraud Charter's current sponsor Carpenters Law and its past sponsors.