Many UK brokers and consolidators will use buy-outs to boost growth in 2013. Insurance Times outlines who will be the deal-makers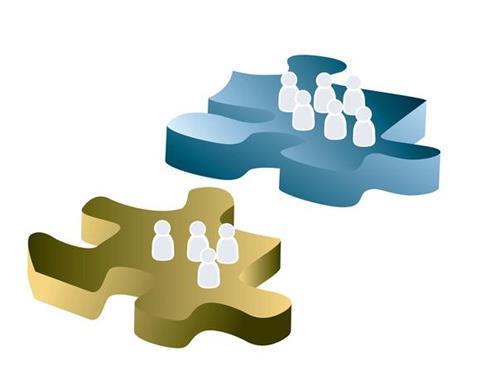 Many of the UK's top brokers have told Insurance Times that they're gearing up for an acquisition spree in 2013.
Bluefin and Jelf stated their intentions this week to make bolt-on acquisitions this year, and Gallagher, backed by the might of its US broking parent, is currently mulling a swoop for property specialist Barbon.
Meanwhile, Oval chief executive Peter Blanc told Insurance Times that once his bank refinancing is complete, he expects to start making acquisitions in the second half of the year.
Most of the appetite will be for small bolt-on acquisitions to existing brand networks"

Stuart Reid, Bluefin
The renewed appetite for acquisitions is partly thanks to the confidence of banks and finance houses in UK insurance brokers as cash-generative businesses that can cope with debt. It is also because some of the consolidators, namely, Oval and Jelf, have brought their debts down to a more solid footing following the financial crisis.
Bluefin chief executive Stuart Reid believes acquisitions won't come cheap. He said: "There is a high expectation on price from those who would sell."
Here, Insurance Times outlines who will be the big players making acquisitions this year:
Oval
Oval was very quiet last year on acquisitions, but it is set to make a splash in the second half of the year once its bank refinancing is complete. Net debt was £34.4m in May 2011, but it has since been cut by a further £6.1m. This financial year, Oval is targeting £20m earnings before interest, tax, depreciation and amortisation (EBITDA), having posted £17.7m in the year to May 2012.
Chief executive Peter Blanc (pictured) is targeting EBITDA of £30m annually, and said the gap would be made up through acquisitions. Oval intends to target brokers with an EBITDA of £250,000-upwards. In an ideal world, however, Blanc said Oval would acquire 10 brokers with an EBITDA of £1m each.
Bluefin
Bluefin is owned by AXA, the world's largest insurance company, so is de facto the most financially stable out
of all the consolidators. This strong backbone is a selling point for chief executive Stuart Reid (pictured) as he hunts down bolt-on acquisitions. Despite this, Reid has not been given bundles of cash to splash by AXA, and is quite careful about his decisions.
Bluefin is close to completing two acquisitions, with announcements on both expected this quarter, possibly as early as the beginning of February. The consolidator is planning to make a total of six acquisitions before the end of the year.
Giles
Charterhouse-backed broker Giles has moved onto the front foot since chief executive Brendan McManus (pictured) took the reins from Chris Giles in April last year.
While the company made its name as a consolidator, it has made much of its more recent progress by taking teams from rival brokers. Recent coups include swiping a cadre of brokers from Cobra, including Cobra Networks managing director John Lincoln, to set up a rival network.
But there are indications that further acquisitions could be on the cards. Sources have told Insurance Times that Giles has had tentative discussions with Kerry London.
In addition, Giles could take part in the much rumoured and discussed consolidator merger and acquisition. In an interview with Insurance Times in June 2012, McManus refused to rule out a big consolidator merger, saying a deal was "absolutely possible" in the next 12 to 24 months.
Gallagher International
UK-based Gallagher International, led by chief executive David Ross (pictured) has the backing of US broking powerhouse Arthur J Gallagher, the world's fifth-largest insurance broker.
Like its parent, Gallagher International has been highly acquisitive and there is every indication it will continue on this path. It is understood to be one of the interested parties in broking group Barbon.
The company is still bedding in its 2011 acquisition of Heath Lambert, but it has continued to buy smaller brokers and managing general agencies.
Recent purchases in the UK include brokers Acumus in Chelmsford and Blenheim Park in Croydon, as well as managing general agency Contego Underwriting.
Towergate
Towergate chief executive Mark Hodges (pictured) is on a mission to grow EBITDA to fund further growth and maintain interest payments.
Given the scant opportunities for organic growth in Towergate's main stomping ground of small and medium-sized commercial business, the main engine for this growth is acquisitions. Towergate was no slouch in 2012, when it bought 24 brokers.
While Hodges refused to speculate whether the completion rate would be the same in 2013, he described the pipeline of deals as "very healthy", so it would be safe to expect more activity soon.
Jelf
Jelf has had a quiet run of acquisitions since 2008, when it bought seven brokers. However, it is keen to get back in the game.
Chief executive Alex Alway (pictured) is expecting his firm to complete two deals in 2013.
The company has a sound base from which to buy other companies. Its results for the year to 30 September 2012 revealed that it had eradicated its net debt position and had net cash of £2.8m.
But don't expect Jelf to rush into anything, as Alway is adamant the company won't make acquisitions for the sake of it.
Consolidation options for 2013
One of the big questions on everyone's lips in 2013 is whether there will be a consolidation of the consolidators.
Last year, megabroker Marsh was understood to have come close to making a bid for Oval, but no deal materialised.
Two years before that, Giles and Oval came close to a merger but negotiations also broke down.
One possibility is that Towergate somehow gets involved. If it could fetch a good price for Paymentshield, one
which would more than compensate for the subsequent loss of earnings from selling the business, it could use the money to help pay off its debts. This could then pave the way for a merger with Giles.
Perhaps Charterhouse, which backs Giles, and Advent, which is behind Towergate, could make cost savings by merging the two firms. The combined businesses could then float. The story to investors would be that the merged firm has a dominant position in UK insurance broking with its hands around the throats of insurers on commissions.
A growth story is unlikely unless it can get into emerging markets via Lloyd's. In the meantime, it would have to play to investors as a cash-generative business offering a handsome dividend.
Bluefin chief executive Stuart Reid said: "The big play is whether the large consolidators buy each other. That's what everyone would like to see. Will there be a Giles-Towergate merger or Giles-Jelf? The backers of these firms have been very patient."
Mergers and acquisitions: key numbers
£512
The total value of M&A deals completed among insurance brokers in 2012. This compared to £491m for 2011, and reflects the increased number of smaller-scale deals done in the year.
£100m
The estimated highest value M&A deal in 2012 occurred, unusually, in the final quarter of the year, when Lightyear Capital acquired a majority stake in Cooper Gay Swett & Crawford.
19
Last year saw a higher number of M&A deals above £5m completed compared to 2011. The previous year saw a rather anaemic 11 deals struck in total.
62%
Brokers dominated insurance M&A activity in 2012, representing two-thirds of all industry deals done. Underwriters accounted for 22%.