Bailed out US insurer in rude health thanks to life business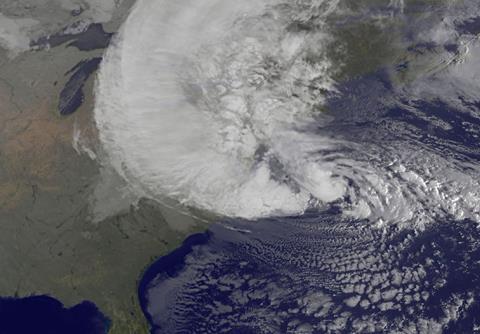 American International Group (AIG) reported operating profits of $6.6bn (£4.32bn) for the full year to 31 December 2012, a 218% leap on the previous year's operating proft.
The rise came despite the group taking a $1.3bn hit in after tax losses from Superstorm Sandy in the fourth quarter.
AIG also saw a $4.4bn net loss from discontinued operations associated with an agreement to sell International Lease Finance Corporation, it added. The turnaround was largely attributable to AIG's life-insurance business, which reported a 20% jump in after-tax operating income last quarter. AIG attributed the improvement to its efforts to "actively manage spread income."
By division AIG Property Casualty reported an operating loss of $945m for the fourth quarter, which included a $2bn before tax set aside for losses incurred from Superstorm Sandy. Excluding those losses the division's fourth quarter operating profit was $1bn, which AIG said reflected improved underwriting margins and strong investment performance. It's combined ratio for the fourth quarter was 125.1 compared to 107.1 in the same quarter a year earlier.
Fourth quarter 2012 net premiums written stood at $7.8bn, essentially unchanged compared to the fourth quarter of 2011, AIG added.
Commercial insurance net premiums written in original currencies were flat compared to the fourth quarter of 2011. Growth in higher value products and geographies was offset by risk selection initiatives and a new reinsurance program in US excess casualty. Consumer Insurance net premiums written in original currencies increased 0.8% compared to the fourth quarter of 2011.
Elsewhere AIG's commercial insurance arm reported an operating loss of $857m in the fourth quarter and a combined ratio of 130.4, compared to operating profit of $448m and a combined ratio of 107.1 a year earlier.
Consumer Insurance reported a fourth quarter 2012 operating loss of $286m and a combined ratio of 111.2, compared to operating income of $131m and a combined ratio of 98.8 in the fourth quarter of 2011.
"AIG's operating profit for this quarter shows the power and financial strength of our diverse global franchise," AIG president and chief executive Robert H Benmosche said. "We achieved these operating profits in spite of Storm Sandy – the second largest single catastrophe event for AIG in the US. These results show how the people of AIG are working together and getting the job done."
Last year marked an important milestone for AIG, which was rescued by US taxpayers in 2008 with a bailout that eventually exceeded $180bn.
The US government, which took a stake in the insurer in exchange for the bailout, exited nearly its entire investment in the company in 2012.
AIG said the US government recovered its full $182.3bn commitment to AIG, plus a combined positive return of $22.7bn.
The US Treasury continues to hold warrants to purchase approximately 2.7 million shares of AIG common stock, the sale of which, the insurer said, it expected to provide an additional positive return to taxpayers.
AIG also sold its remaining stake of approximately 1.65 billion ordinary shares of AIA Group Limited (AIA) recognizing gross proceeds of approximately $6.5bn and a gain of $240m. For the full year, AIG recognized gains of $2.1bn from AIA.