Insurer 'obliged' to consider suit, chief executive says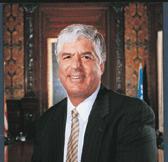 AIG is considering suing the US government over its 2008 bailout, which rescued the insurance group from collapse.
The US government bailed out AIG to the tune of $182.3bn when it hit trouble during the financial crisis in 2008. The bail out included the government taking a 79.9% stake in the insurer.
The news of the suit closely follows the launch of AIG's 'Thank You, America' advertising campaign, in which expresses gratitude to US taxpayers for bailing the company out and points out that it has repaid the debt at a profit to taxpayers.
AIG is considering suing the US government in response to a demand from one of its shareholders, Starr International Company. Starr is an insurer established by former AIG chief executive Hank Greenberg.
The demand asks whether AIG will take over, or allow Starr to pursue, a lawsuit Starr filed on behalf of itself and other AIG shareholders in November 2011. The suit alleges that some terms of the bail out were unconstitutional and seeks $25bn in damages.
The Starr suit said the government assuming a 79.9% stake in AIG constituted a wrongful 'taking' without just compensation, in violation of the US Constitution.
The lawsuit makes derivative claims in AIG's name and direct claims on behalf of Starr and other shareholders.
AIG now has three options with regards to the derivate claims: take over Starr's claims and pursue them on its own, refuse Starr's demand and thus prevent Starr from pursuing the claims, or allow Starr to pursue the claims on AIG's behalf.
The company will hold a board meeting today to decide what to do.
AIG chief executive Robert Benmosche suggested the company had little choice in considering the suit against the government.
He said in a statement: "AIG has paid back its debt to America with a profit, and we mean it when we say thank you to the American people. At the same time, the board of directors has fiduciary and legal obligations to the company and its shareholders to consider the demand served on us and respond in a fair, appropriate, and timely manner".
He added: "Tomorrow's board meeting is about listening to all of the parties involved and gaining a thorough understanding of the issues. We anticipate making a decision in the next several weeks."
While declining to comment on the suit, the White House defended its bail out of AIG.
"The US government acted in a bipartisan fashion to prevent the disorderly failure of AIG after concluding that such a failure would have caused catastrophic damage to the economy and financial system," Reuters quoted White House spokesman Jay Carney as saying.