AXA and Hiscox chiefs scoops top industry prize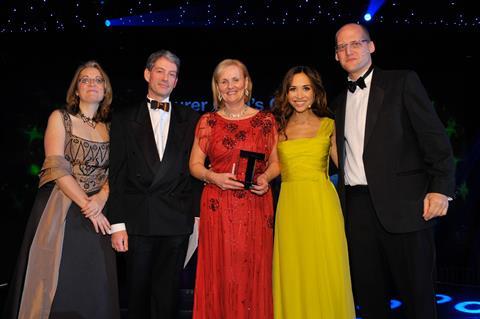 AXA commercial lines and personal intermediary chief executive Amanda Blanc and Hiscox chief executive Bronek Masojada received the Insurer CEOs' CEO award at last night's Insurance Times Awards.
Blanc said she was "very shocked and really delighted" to win one of the industry's most coveted titles.
"There are so many legends in that peer group so I just feel really really proud," she added.
Blanc was recognised for her outstanding achievements over the past 12 months, with highlights including her stint as president of the Chartered Insurance Institute and her work at AXA.
"I've really had a very big year, but also the turnaround of AXA has been just terrific. We've had some really great results and I'm ever so pleased about that. There are so many talented people – not just in my team, but across the whole industry," she said.
She added that her plan for 2014 was "more growth, more profit, more closer working with our brokers, so more of the same – consistency".
When asked how she would be celebrating her win she said "with a glass of water. I'm on the first train out to Paris tomorrow to present to the investors".
Masojada, who was unable to attend the awards ceremony, today said: "Being in such esteemed company, it is an honour to win this award, and in particular to be recognised by my peers. It has been a busy year for Hiscox and I am proud of the business we have written and the customers we have helped. But this award is not just a reflection of my work; I believe it recognises the work of the whole Hiscox team."
To read the full list of winners, click here