Theft, accounting fraud, bribery and even employment application fraud are becoming growing problems for SMEs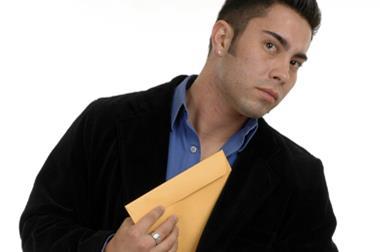 The risk environment is changing and today's SMEs are as much likely to suffer a loss from a denial of service attack as they are from property damage or liability claim.
But as brokers advise on new and emerging risks, insurers are grappling with offering products suitable for small businesses.
Rogue traders, white collar crime and internal fraud is not just an issue for large corporates and banks. Increasingly, SMEs are falling prey to corporate dishonesty, exacerbated by the financial climate.
According to a survey by independent fraud prevention service Cifas, UK internal fraud rose by 18% in 2014. In total, Cifas member organisations recorded 751 confirmed cases of employee frauds last year, compared with 638 in 2013.
The frauds range from theft by staff (with over half passing on data to a third party), to account fraud, employment application fraud and bribery.
"Fraud is not just about remote attacks," said Cifas chief executive Simon Dukes. "Some of the most dangerous threats can come from within. Internal fraud costs huge amounts in money, reputation and employee morale.
"Customers are also affected when their personal data is stolen by an insider."
And small businesses are not immune, particularly as most lack the tight monitoring and security measures put in place by larger organisations.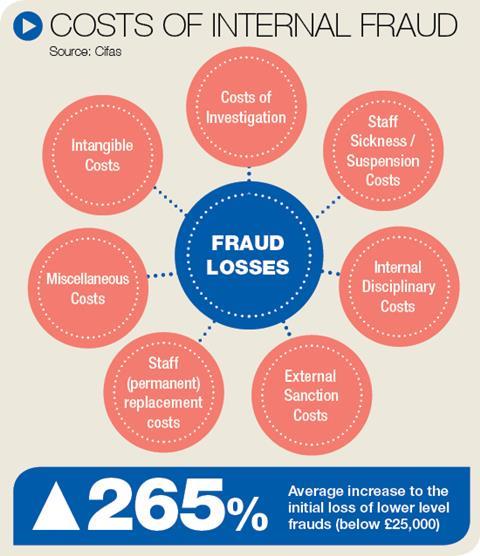 The senior executives of small and medium-sized businesses also typically have greater access to sensitive information and company accounts than their larger counterparts, making crime easier to commit and more likely to go undetected.
For example, a disgruntled accounts manager was jailed for stealing £80,000 from his Manchester-based cleaning products company.
The theft went unnoticed for three years and it was only after he left the company that unauthorised money transfers were revealed.
Higos head of commercial lines Chris Wilde has noticed an increase in the number of crime and fidelity claims from small businesses in the last year.
"We're seeing crime within all areas of business – for example, a car salesman selling a car and declaring it sold at X figure and pocketing the difference. It's common and we are seeing an increase.
"People are being caught out too late," he adds. "Crime has occurred quite often over a long period and that's a risk I'm not sure SMEs are thinking about.
"What we're seeing are examples of risks coming from the most unlikely sources, so the message really is no business is foolproof, even though they may believe they are."
Wilde is working with insurer partners to develop products better suited to the crime and fidelity risks SMEs face.
"We've managed to tweak a few covers to at least widen the protection, but I'm speaking to all our insurers about how we can build that into packages."
"These risks can occur over years, so we need the market to do something as soon as possible."