Flood Re will not reduce premiums, brokers say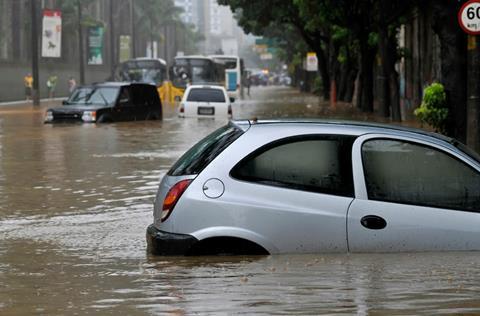 Information is power, according to brokers who responded to this month's survey.
They believe the industry will be empowered to provide flood insurance – even to those properties falling outside Flood Re – given more data.
A total of 82% believe a flood risk and resilience certificate for properties will make risk easier to price accurately.
Others are using new and updated flood maps, flood models and more reliable property geo-coding (at the post code level) to better assess flood risk.
Moreover, one-third said they offered discounts for properties with better flood proofing. The result of better data is that flood pricing will become more differentiated, more than 90% of respondents say.
Nevertheless, when Flood Re comes into force next April, prices will change little, according to nearly two-thirds.
They believe only those at high risk of flood will experience a drop in premiums, while for others the costs will stay the same or could even rise "since reinsurance is expensive and that is effectively what Flood Re is".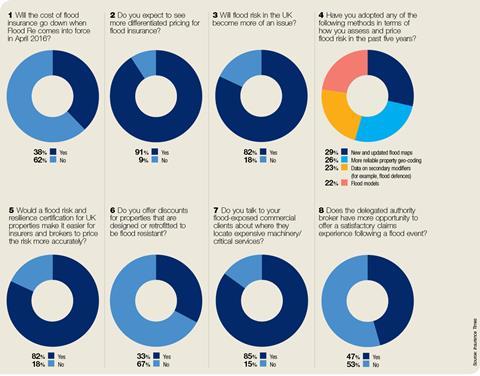 Click here for a larger version
While Flood Re is intended to be phased out after 25 years, brokers are sceptical this will happen.
Most (82%) say flood risk will become more of an issue as a result of a lack of flood defence spending, climate change and building on flood plains.
Asked what they would change about Flood Re, some respondents were concerned it had been devised too quickly, leaving many grey areas. Some said it was too complicated to administer.
Some complained about the risks excluded from the scheme (such as SMEs and landlord associations).
A catastrophe modeller said more information should be used to assess flood risk. "Individual policies should be charged on the basis of an underlying assessment of the flood risk rather than a council tax band," he said.
But most feel Flood Re is a step in the right direction. "It can be another voice and lobby to address issues such as climate change, building on flood plains, poor river management, flood defences for vulnerable areas long term," said one broker.