Sir Adrian Montague to take over as chairman from April as McFarlane leaves earlier than expected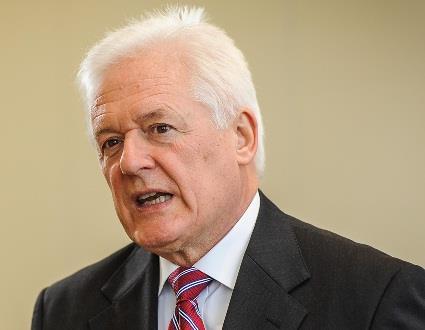 Aviva chairman John McFarlane is to leave the insurer earlier than expected to become chairman of banking group Barclays.
Sir Adrian Montague will replace McFarlane at Aviva's annual general meeting in April 2015.
McFarlane is credited with orchestrating Aviva's turnaround plan, under which the insurer sold or closed poorly performing units to shore up its capital base.
McFarlane joined Aviva's board in September 2011 and was due to take over as Aviva's non-executive chairman at the end of June 2012, replacing Lord Sharman of Redlynch.
But he was drafted in to run the company as interim executive chairman in May 2012 after chief executive Andrew Moss left following a shareholder revolt over his pay.
McFarlane eventually took up the non-executive chairman role on 1 January 2013 when new chief executive Mark Wilson joined the company.
Aviva said in a statement: "While recognising that John will remain chairman of Aviva until he assumes the role at Barclays, the board would nevertheless like to record its gratitude for the enormous commitment and contribution made by him since joining the board three years ago."
Aviva said its board was made aware some time ago that McFarlane might have to leave earlier than he anticipated to return to banking.
McFarlane's replacement Montague joined Aviva's board in January 2013 and became a senior independent director in May 2013.
Montague said: "It will be a privilege to chair Aviva. The company is recovering strongly and delivering against its investment thesis of cash flow plus growth, under the new, strong management team ably led by Mark Wilson.
"John McFarlane has been an extraordinary chairman, and has made an immense contribution to Aviva's recovery. We are disappointed that he is leaving Aviva, but understand his excellent credentials to chair Barclays, and are very appreciative of all he has done for Aviva."
McFarlane added: "I am very pleased with the progress Aviva has made, and although it is naturally with some regret that I step down,
"I am glad to be leaving the company in safe hands. I have great respect for Adrian, having worked very closely together over the past two years. His considerable experience in financial services, including insurance, as well as in government and regulatory matters are invaluable to us. His appointment has my full support as well as that of the Board and the senior executive team, and I wish him well."