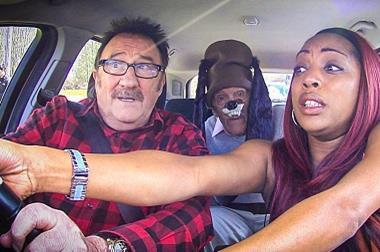 Aviva has teamed up with Channel 4 and celebrities including rap star Tinchy Stryder and entertainers the Chuckle Brothers (pictured) for a series of short videos promoting safer driving.
Also starring in the videos are Made in Chelsea's Louise Thompson, musician Martin Kemp, Radio 1's Chris Stark and former Pussycat Doll Ashley Roberts.
Each of the shorts demonstrates a different driving hazard – from texting while driving, to road rage, to eating on the move – to show the dangers of a range of distractions.
The series, called Driven to Distraction, features celebrities picking up unsuspecting members of the public to take part in what they believe is a TV interview show.
During the journey the celebrities display unsafe driver habits designed to provoke a passenger reaction.
Unknown to the passenger, the vehicle is being driven on a track, controlled by a stuntman in a specially constructed pod attached to the roof, while the celebrity receives instructions from a hidden earpiece.
The videos will be shown on Channel 4's video on demand service All 4.
Aviva UK and Ireland customer marketing director Lindsay Forster said: "Our research shows that four out of five people admit to getting distracted while driving from time to time.
"Whether it's children playing up in the back of the car, or trying to multitask by texting or eating at the wheel, there are a multitude of things that can take people's minds off the crucial task of being a safe driver.
"Our collaboration with Channel 4 is designed to show just how dangerous these habits can be, and while the films are entertaining, there's a very serious message behind them."