Restructure creates new team to push for ambitious Paris target and cost-savings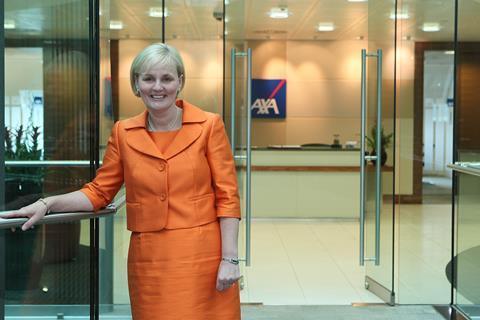 Amanda Blanc revealed that she now controls £1.4bn under her enhanced responsibilities at AXA, but stressed: "I can't even contemplate failing."
Blanc was speaking as she revealed details of the key people moves following the merger of commercial lines and personal lines intermediary.
Blanc has headed up AXA's commercial lines £800m gross written premium arm since early last year, and the merger with personal lines intermediary will add another £600m GWP.
An important director in helping her keep on top of her expanded role is David Williams, who was previously claims and underwriting director. Because of the expanded volume following the merger, he will drop the claims responsibility and now become managing director of underwriting.
The duo will be key players in getting AXA to hit a Paris target of 97% combined ratio by 2015, while making cost-savings.
Asked whether AXA had any plans to sell its personal lines business if it failed to achieve the target, Blanc said: "I can't even contemplate failing - it's not something that we really do - and I think if you go into it with that mindset you are never going to achieve anything."
The restructure also sees Karen Hogg appointed managing director of personal intermediary, Carolyn Scott appointed head of non-motor, Chris Voller appointed claims director and Jon Byford leading private motor underwriting. Matthew Reed will continue in his role as managing director of commercial intermediary.
Meanwhile, other brokers have praised the restructure. Jelf group chief executive Alex Alway said the merger of the two parts of the business would enable quicker decision-making, and Higos Insurance Services managing director Ian Gosden said it would make it easier for the broker to deal with one person rather than two.
AXA is expected to reveal the new structure of its direct personal lines and affinity business, including Swiftcover, this week.
Pass notes: AXA update
How did AXA perform in the first half of 2012?
AXA's UK and Ireland property/casualty business reported a 27% improvement in underlying profit in the first half of 2012 to £66m from £52m. The current year combined ratio, which excludes the impact of prior-year reserve movements, deteriorated slightly to 100.4% (H1 2011: 100%) because of the recent UK floods.
Could AXA's parent company sell UK personal lines if it fails to make a healthy underwriting profit by 2015?
AXA Group has shown its ruthlessness in the UK by selling the life and pensions arm for £2.5bn in June 2010.
What will happen with AXA's direct personal lines business?
The direct business is currently being managed on a temporary basis by Ireland chief executive John O'Neill, but a new chief executive and senior management team is expected to be named this week.