Investigation reveals fractured steel bolt had been caught by safety netting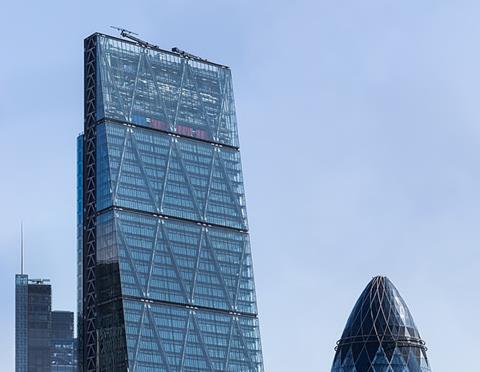 A third bolt has fallen off the Cheesegrater, Aon's new global headquarters, an investigation by the building's developer has revealed.
British Land said the steel bolt had fractured but had been caught by netting erected as a precaution after two of the fastenings fell off the Leadenhall Building last year.
British Land discovered the problem with the third bolt during an investigation that it pledged to carry out following the accident at the 37-storey tower.
But the investigation, which was carried out by the building's contractor Laing O'Rourke and its structural engineers Arup, showed the building's structural integrity was not threatened by the bolts' failure.
In a statement, British Land said: "The problem is limited to certain bolts. Arup has also confirmed that there is no adverse effect on the structural integrity of the building. A programme to replace a number of bolts will take place as a precautionary measure."
The building's architects Rogers, Stirk and Harbour also announced today that they are relocating their head office to the Cheesegrater, where Aon and Amlin have already taken space. Brit is also understood to be taking three floors at the 224m tall skyscraper.
Join the debate in our new LinkedIn specialist discussion forums