Beale and Fisher call for action, as a CII report shows that "millennial" women are expected to be worse off than their mothers and grandmothers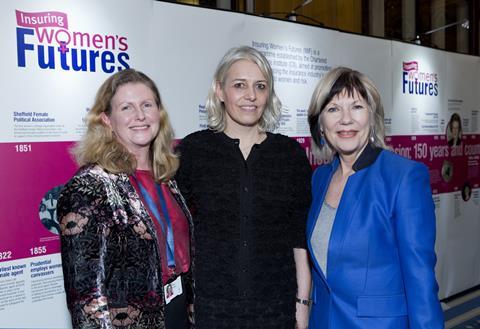 Sian Fisher, Jude Kelly and Jane Portas at the IWF launch
CII president and Lloyd's chief executive Inga Beale and CII chief executive Sian Fisher call for action, as a CII report shows that society's risks are disproportionately borne by women.
Consumer groups, policymakers, millennial women and senior insurance and finance executives gathered at the CII on 23 January for the launch of the 'Securing the future of the next generation: The Moments that Matter in the lives of young British women' report, as part of the 'Insuring Women's Futures' programme.
The programme is part of the wider 'Insuring Futures' initiative.
Beale and Fisher call for action
Beale commented: "Much has changed in the century since British women gained the vote, but there is significantly more to do to support women's equal progression, improve women's risk resilience and secure their financial independence. The insurance and financial planning profession has a longstanding and valuable role in supporting society's financial resilience, and this is opportunity for the profession to unite those who can influence change, and to apply its expertise for the benefit of society and its economic stability."
Fisher added: "All of our risks in life are changing, and in many cases will be worse for the next generation than for the last. What is striking about this study is not just the level of risk to which women and society as a whole are exposed, rather the need for more radical approaches, the urgency to engage women on their terms, to equip and empower them to manage their own risks in life. Today's women are simply unprepared for the risks that they face in life."
Fisher concluded: "We need to act now because if we don't address this, we will not have the resources to sustain the current situation. To help drive this change we have established the Insuring Women's Futures Market Task Force to work with the profession and collaborate with policymakers to effect innovative and broad change."
The report findings
The report showed that despite women having more freedoms, they still lack financial resilience and are often significantly dependent on others. "Millennial" women are now expected to be worse off than their mothers and grandmothers, the research suggests.
Lead author of the report and PwC partner Jane Portas explained: "This means we are all exposed and has much broader implications for our society and economy. Many of the issues leading to women's risk exposure are deep rooted. They will only get worse for the next generation unless we act now with fresh, innovative approaches and a change of mind-set."
Th report found that mothers are increasingly expected to work part time while also taking on duties of caring for their family. However, part timers are paid almost a third (30%) less than those in full time work.
Women are generally remaining dependent on partners for their income and for their retirement, which puts them at risk of poverty in later life.
In addition, women are exposed to the risks that come with divorce or separation. More couples are living together, with lower legal rights than in the past.
Portas concluded: "Improving outcomes for women requires collaboration between the insurance and financial planning profession, policymakers, employers and society. We need to find new ways of educating and engaging, consider policy approaches that can pave the way for alternative forms of access to risk and financial solutions, and to make financial planning and insurance more relevant and accessible to the many. And there needs to be more emphasis on the "whole person", recognising there is no one size fits all. This report presents an opportunity for the relevant parties to join forces to improve women's risk protection, economic independence and financial resilience, improving the financial future for us all."