Great responsibility rests on Collinson Insurance Group's 35-year-old managing director, but he shows no signs of trepidation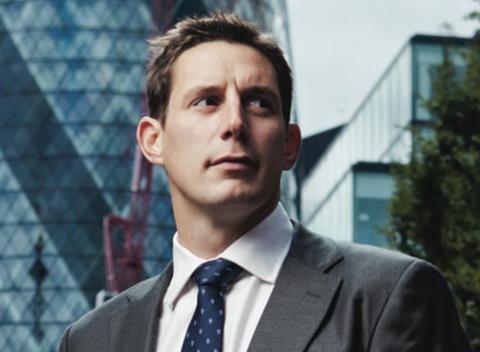 At only 35, David Evans is one of the youngest managing directors in the insurance industry.
And a lot is resting on his youthful shoulders: Collinson Insurance Group, which this year celebrated 50 years in business, has almost 1,000 staff and £165m in gross written premium.
Evans has been carefully mentored by his father - Collinson Group chairman Colin Evans - to cope with the pressure, and is relishing his moment in the spotlight.
He's also very much his own man. Evans believes the time is right for Collinson to make acquisitions. True to his vision, last month he masterminded the acquisition of claims management and medical help firm One Group Ltd.
"We have other acquisitions in the pipeline," Evans says. "We have two things sitting out there at the moment, which hopefully will get close by the end of the year."
Steady rise to the top
Evans' career in insurance began after university, with a six-month position with Lloyd's broker Rattner Mackenzie. Having worked as a broker, predominantly in accident and health (A&H), for five years, he then joined Kiln as deputy underwriter on the A&H team.
At the age of 26, Evans became managing director of former client ASU International Inc, which was later acquired by HCC. He turned the business around, rebuilding the team and its income levels.
After five years in that role, his father felt he was ready to take up a major role at Collinson Group, and he was offered the job of heading up the group's Lloyd's broker. Two years later, in 2010, he was appointed managing director of Collinson Insurance Group.
The One Group deal is clearly a watershed moment for Evans, as it is the first major Collinson acquisition he has spearheaded - and he's keen to talk about it.
Evans does not anticipate redundancies following the deal, owing to high workloads at each company.
He says the merger will mean that "we can align our processes and procedures", adding that one of the main attractions of One Group was the knowledge and experience of its staff - some of which he is keen to pass to other parts of the business.
One Group's chief executive and co-founder Paul Byrne has been retained as director. Collinson has also inherited One Group's client base of Lloyd's syndicates and international airline partners, and will now be able to tap into its staff's global expertise and multilingual skills.
Big business
The acquisition of One Group is another addition to an insurance group that counts businesses across 17 countries.
The group comprises Club Direct Insurance Services (acquired from administration in 2002 with 35 jobs rescued), Trinity, Columbus Direct, Collinson Insurance Brokers and Preferential Insurance Group - all operating separately but not totally aligned within the business.
Evans says: "The insurance group part had got an awful lot of great assets, but they weren't necessarily fully aligned.
"One thing that has been a key driver for me over the first 12 months in that role was to get them aligned, so we recruited a number of senior executives into the team.
"And we have restructured the way that we run our business, so that we are no longer an eclectic mix of companies but we are very clearly an insurance group.
"We now have a retail, broking, underwriting and claims division. The claims division was predominantly a cost centre, but with the acquisition of One [Group] it will become a profit and revenue centre - the same as with the other divisions."
Evans is confident the new strategy, which has been in place for about the past year, has been communicated clearly to the Collinson staff and the business is now starting to deliver.
Another message he is constantly pointing out to his staff is the importance of innovation. For example, Columbus Direct has often been one of the first brokers to react to events affecting the industry. It launched a new travel policy to protect customers against travel being disrupted by volcanic ash, following the eruption of the Eyjafjallajökull volcano in Iceland in 2010, which caused travel chaos and cost the aviation industry billions.
Columbus was also one of the few providers to honour trip delay payments to its policyholders after its underwriter removed ash cloud cover from its standard travel policies and, last year, it decided to offer its clients additional protection.
The bigger picture
Evans says the travel insurance market has almost recovered from the events of two years ago, with Collinson being one of the first to put up rates. He points out that the decision has paid off, as evidenced by the company's results, despite fewer people travelling.
Looking to the future, Evans believes that the travel insurance industry is now very mature. In the last decade, it saw a number of entrepreneurs start up new companies focused on trading through the internet.
The most notable is InsureandGo, which was launched in 2000 and is now one of the largest direct travel insurers. Founder Perry Wilson sold the business in 2010 to Spanish insurer Mapfre.
But Evans believes new entrants will find it difficult to break into the travel insurance market, which has well-established players offering competitive deals. Those incumbents will have to fight hard to grow their customer base, and the industry may well experience a period of consolidation.
Collinson is likely to be at the forefront of this push for growth. Evans says: "As well as building on our group strength, our strategy includes plans for an acquisition-led push for growth, as well as expansion into new lines of business in 2012 and 2013."
Evans may be young, but he's certainly confident and has a vision of where the travel industry is going. This is one industry boss from whom we're going to be hearing a lot more.
Snapshot: The man
Age: 35
Hometown: Hookwood, Surrey
First employer: Rattner Mackenzie
Family: Married with three daughters
Interests: Cycling, entertaining and DIY (thanks to a recent move)
In his own words: 'We are no longer an eclectic mix of companies but we are very clearly an insurance group'
The company
GWP: £165m
Worldwide offices: 24
Employees: 950
Market view: After a few years of quiet success, Collinson is now making noise with acquisitions. It has a leader with a clear vision in Evans.