The Digital Age of insurance is here. This means businesses can no longer afford to remain unautomated and rely on manual processes or traditional methods of conducting business. One of Applied's customers, BHL Group (incorporating BHIB Insurance Brokers and Churchill Insurance Consultants), understand this well and have adopted the technology to compete and thrive in the digital age of insurance.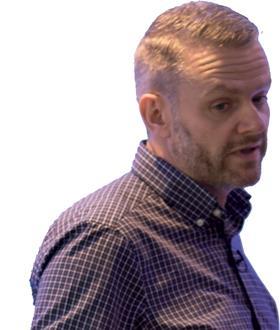 Having recently completed their implementation of Applied Epic, BHL's head of IT and digital communications, Glenn Worth (left), shared the broker's rationale for digital transformation and their experiences through implementation.
How are customer service expectations changing, and what does that mean for your business?
Worth: Today's more tech-savvy customers want to be served however and whenever they want, driving us to adopt technology that will allow us to do that. Without advanced digital technology, such as a foundational broker management system, online portals and mobile applications to deliver omnichannel servicing, we would not be able to deliver that 24/7 service customers expect.
What business drivers led you to move to Applied Epic?
Worth: We had recently acquired another company, giving us two businesses on disparate platforms. There were inefficiencies in working around these platforms, such as challenges in seeing data between the two businesses, not being able to easily work remotely, and the administrative tasks of maintaining the platforms took our focus away from customers. All of these challenges created scalability issues that only consolidating to one system would fix. Having one system to operate our business now enables us to add value to relationships with our customers and focus on productivity and profitability of the business.
What business values do you expect to see from using one system across the entire organisation?
Worth: In a single word, we expect to see simplicity. We are standardising our business operations so that each employee is working in a uniform process, creating more efficiency and faster service. By standardising these processes, it enables us to report on aspects like employee productivity and sales pipelines so we can continuously improve.
In addition, using one system gives us a single view of the customer across multiple lines of business, enabling us to cross-sell and upsell where there are opportunities.
Why is it important for your business to have an open broker management system?
Worth: As each business has its own processes, we needed technology we could customise to fit our operations. A key reason for choosing Applied Epic was being able to seamlessly integrate our external portal for Quote and Buy. Using Applied Epic, staff now only have to key in the information once, saving us time.
How will integrating trading within your broker management system increase efficiency?
Worth: Managing trading within Applied Epic provides us a faster route to multiple quotes. We can speed up the process by taking away the steps of visiting multiple extranet sites and never have to leave our management system. Our staff can receive quotes and prepare presentations in a single place, creating a massive opportunity to save time and focus more on managing our customers.
How did BHL and Applied ensure a smooth implementation?
Worth: We have worked with Applied for more than 20 years, so their knowledge of our business was critical to successful implementation. They were with us every step of the way, and our entire organisation also put in a massive effort to ensure a quick and smooth implementation.
The combination of the willingness of the staff to learn and the ability of our partner to provide the proper information is at the heart of a smooth implementation, and I feel that we achieved that. We have been using Applied Epic for just a few weeks and you wouldn't know it by the way our staff already know the system. That's a testament to the commitment to preparation and continued education from BHL and Applied.
How does Applied Epic fit into your future growth strategy?
Worth: Applied Epic enables our staff to learn more about our customers so that we can better serve them.
As we move into new markets, it is critical to have digital technology to support our initiatives, not create barriers. Applied Epic allows us to deploy across multiple locations and add integrated technology as necessary so that we can better scale the business with ease.