When is a claims management company not a claims management company? And Financial Ombudsman Service says many alleged fraud cases are actually the result of consumer confusion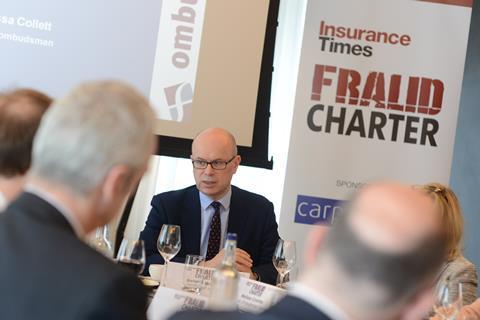 Fraudsters are like grey hairs, according to GAB Robins counter fraud and investigations service manager Neil Daniel – "you pluck out one, and two more appear in its place".
In a hotly debated discussion on dealing with fraudulent claims, Daniel told members at the first Fraud Charter meeting of 2015 that the Ministry of Justice (MoJ) needed to take a different approach across multiple channels to stop the surge in cold calling that is dogging the industry.
The MoJ's head of civil litigation funding and costs Robert Wright was at the meeting to discuss the results of its Insurance Fraud Taskforce interim report, which highlighted claims management companies (CMCs) as a potential target for the government in its crackdown on fraud.
Daniel said: "It's not just about shutting CMCs down.
"We've learnt a lot from other industries that you've got to attack it on all fronts. They are a shifting target."
Daniel added that one of the areas of focus should be the "moral compass" of the country to dissuade people who wouldn't normally consider making a claim from being talked into taking action.
"Are these cold callers having an effect on the moral compass of the nation?" he asked. "Are people who otherwise wouldn't consider it collectively starting to think: why not give it a go?
"What is the cost to the industry of those particular claims? It's scary."
Changing model
Covéa head of financial crime Steve Jackson said one of the difficulties of clamping down on CMCs using cold calling to initiate fraudulent claims was that the companies often changed their business models so they did not fall under the MoJ's regulatory supervision.
"When we look at the falling number of CMCs, there is a corresponding increase in market research companies," he said.
"These are supposedly only calling to see if the insurer has treated you well, but on the back end of that call there is always a question about if you have made a claim or been hurt.
"It is using underhand techniques to circumvent the regulation. They are CMCs, just by a different name."
An industry problem
Swinton risk and compliance manager John Hulme said brokers needed to take a stand and make sure that they helped insurers and regulators in detecting fraud, even if there was a short-term cost associated with taking such action.
"There isn't money in [detecting fraud] for brokers," he said. "But this is an industry problem, and [not highlighting fraudulent claims] doesn't help us in the long-term and so it is a cost worth paying.
"The more that is taken out of this industry [through fraudulent claims], the less fees and commissions brokers will get and the less profit insurers will have. Everyone will lose eventually [if nothing is done]."
Another issue up for debate at the Fraud Charter event was how the Financial Ombudsman Service (FOS) handles complaints when the insurer had alleged that the claim was fraudulent.
FOS senior ombudsman Melissa Collett said that just 0.6% of complaints that came to it included alleged fraud. The figures did not include cases that involved misrepresentation.
Collett said the reason for this was that a lot of these cases were as a result of policyholder confusion, not deliberate fraud, and that a lot could be solved by improving the use of data enhancement at point of quote.
"In our experience, a large majority of [misrepresentation cases] arise out of consumer misunderstanding and confusion rather than fraud," she said.
"We are moving to a place now with databases like MyLicence and CUE (Claims and Underwriting Exchange) where the more insurers interrogate that data at the application stage the less they will have to ask consumers.
"I'm hopeful that in future there won't be any real issue around misrepresentation at the application stage."
Join the debate at our Insurance Times Fraud Forum on LinkedIn