David Howden, John van Kuffeler and Eric Fady are in great spirits, and with good reason – with a 72% increase in profit, Hyperion is flying high. But is this enough to take it through a planned IPO while also acquiring Windsor?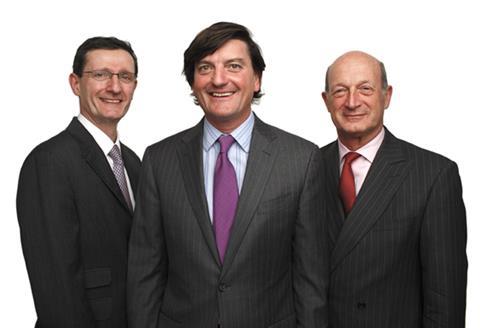 In the year 2012, all the consolidators are talking about floating, but the one broker that looks most likely to pull it off is much less well known. With most of its business abroad, Hyperion largely falls under the radar. But this is set to change; like the Greek God after which it was named, Hyperion is about to start throwing some lightning.
Hyperion revealed last month that it had delivered a whopping 72% increase in profit after tax to £7.5m for the year ending in September. Pulling in £87m in annual revenues, Hyperion is around the same size as consolidator Oval and, if a mooted swoop for Lloyd's rival Windsor comes off, its underlying earnings will be on a par with Giles.
So it's little surprise the room is brimming with optimism and bonhomie as chief executive David Howden, chairman John van Kuffeler and chief financial officer Eric Fady settle down for their first interview together with Insurance Times.
Trying to do too much?
The business has come a long way from the start-up founded by Howden 17 years ago. Things look rosy, but the real test is yet to come: is it ready for the planned flotation next year, especially if it has to integrate Windsor?
Windsor is a big beast to consume, even for Hyperion. The Lloyd's broker pulls in £10m a year in underlying earnings and so a rough calculation – of five to seven times earnings – values Windsor at between £50m and £70m.
Such a big deal prior to an initial public offering has raised eyebrows. Analyst Eamonn Flanagan of Shore Capital, which is likely to cover the stock, said: "Logistically it would be difficult to float and acquire Windsor at the same time. We in the market would be loath to jump at a stock where there is a lack of clarity at the time of float due to an ongoing integration process."
This is where Van Kuffeler comes in. He is an industry veteran when it comes to flotations, responsible for the launch of 28 companies onto the stock exchanges, including Huveaux, a political publishing group he founded. "You clearly have to have a good record to present to the City, which includes ownership of larger assets that you have acquired for a period of time before IPO," he says. "On the other hand, it is perfectly possible to do a number of smaller or medium-sized transactions in the run up to an IPO."
Consuming Windsor
At the last count, Hyperion had drawn down a small portion of its £25m war chest for acquisitions. But does it have the firepower for a megadeal such as Windsor? Van Kuffeler won't be drawn into discussing Windsor specifically, but hints that Hyperion's recent growth means the doors are open for further investment. "With the size we are, there are many different financing options open to us for acquisitions and we look at them all to decide what is best for the company," he says.
Chief executive Howden is at pains to stress that the flotation is just one stepping stone in the company's journey. Nonetheless, the media and the City will be asking plenty more of these questions over the next year and a half. And perhaps the most important question is about size.
The stock exchanges are littered with mid-sized companies that have struggled to improve their share price: Cobra, Jelf and THB to name a few. Raising funds on the capital markets can be a challenge for stocks with a sub-billion-pound market capitalisation. Hyperion's market capitalisation will probably be between £200m and £400m.
But Van Kuffeler's vision is clear: if you are a mid-sized stock with a track record for growth and a clearly defined strategy, money can be raised. "You can look at many examples over the years where that has been true," he says. "What we believe internally, and what we are hearing from the various advisers we are discussing it with, is that we would be a company of very considerable interest to investment institutions," he says confidently.
Under Howden's wing
But enough flotation talk, and more on the company. 'Profitable growth' is a phrase frequently bandied about by insurance executives, but few companies achieve it over any sustained period. Not so Hyperion. Both revenues and profits have been on the rise for years. The annual average revenue growth rate over the course of the last decade was 26%. Profits are up 150% since 2006.
Credit must go to Howden. After a successful career buying and selling firms, he founded Hyperion in 1994 as a professional risks broker. Buoyed by investment from B.P Marsh and then private equity backer 3i, he's overseen the expansion into underwriting, with businesses CFC Underwriting and DUAL. Last year, Hyperion bought Accette Insurance Group, South East Asia's largest independent broker, adding it to a menu of 52 offices in 28 countries with more than 1,000 staff.
Being like John Lewis
Howden is high-energy and fast-talking, and his enthusiasm is infectious. He says Hyperion's secret is its people, entrepreneurial spirit and focus on the customer. He describes his firm as "bureaucratic-light", emphasising that he abhors endless meetings. "The key thing behind any insurance business has to be one thing and one thing only - the people," Howden says.
Here, Fady, who spent four years as Marsh European finance director before moving to Hyperion in 2008, comes in here: "When I compare Hyperion and Marsh, although the size is very different, in terms of processes and controls we work at the same level. What we cut are all the useless bureaucratic steps."
One of Howden's tricks has been to lure staff with equity. Around 10% of employees are shareholders, holding a 50% stake. "Nick Clegg said we should all turn ourselves into John Lewis. He's right, but that's not rocket science. People who have got an interest in the business are bound to have a bit more affinity and care for it," Howden says. "There aren't just a load of big fat cats sitting at the top with all the equity here."
The Hyperion team are a slick bunch who seem to have all the answers. Successfully floating an insurance company at a time of great economic uncertainty is no easy task. But you get the feeling Hyperion has every chance of making a tough job look easy.