Are insurers about to surprise us with their ability to throw off their cardigans and bust some serious innovation moves? John Warburton is optimistic.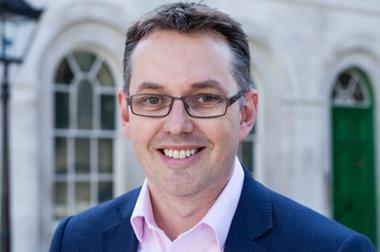 John Warburton is the founder and chief executive of Konsileo, a tech start-up focused on commercial insurance broking, and a mentor at London insurance start-up accelerator Startupbootcamp. He previously held senior positions at Allianz in the UK and Germany.
Can insurers surprise us in terms of innovation? I'm not sure we are in for an X Factor style surprise, but there are a series of trends that have been quietly taking effect for a number of years and that are now tapping their way to a crescendo. I'm becoming confident that change is coming.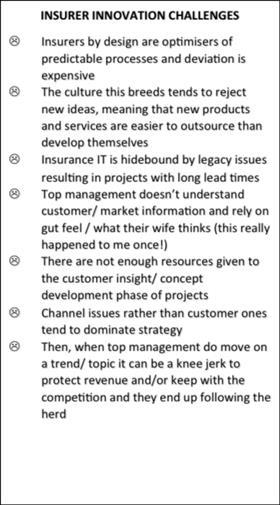 Insurers as 'Dad dancers'
In my 20+ years in various sales, marketing and product roles at insurance companies I have often had a sense that insurers appear deeply uncool; a bit like the father of the bride at the edge of the family wedding as newer, fresher organisations whirl around the dancefloor/market. This is what happened with the advent of direct in the 1980s, the internet in the 1990s, and aggregators and broker consolidation in the 2000s.
In the past, when they've made an effort they can end up looking like the apocryphal 'dad dancer', being a bit late, not quite co-ordinated and perhaps not fully in time with the music. A big part of this was an innate conservatism that comes from a quite correct desire to protect capital and not jump on any bandwagon. A more corrosive issue was the elevation of myths and common wisdom into deeply held political positions for each function – I remember endless debates about who the customer is, whether the customer even matters and where the 'good risks' (ie the ones everybody else wants) are.
When it comes to innovation there were lots of reason why insurers just couldn't resist the temptation to believe that their rendition of 'Come on Eileen' was the best and they did dumb things like a vanity acquisition, a 'strategic' distribution play or install a new computer system.
Foot-tapping by insurers
Having said that, for this current wave of digital innovation I am more hopeful for the industry and for the venerable institutions that we know and love. I think that these issues are becoming settled; people with 'customer' in their job title are becoming more data savvy and underwriters are becoming more open to forward looking/leading indicator data.
Even though I am proudly on the outside doing my own start-up, when I reflect on things I've seen in the last 10 years or so, I can see some reasons to be optimistic about the opportunities for insurers to innovate.

Twist and shout
So, in this more positive atmosphere, why do insurers bother with the aggravation of working with start-ups? This is a finely balanced question and there are a range of engagement models. Some insurers see start-ups as future suppliers of plug-in technology, for telematics, etc, and view the exercise as a quasi-procurement process, building options. Others have significant venture funds and are seeking to participate in the disruption as investors. Finally, insurers are seeking to infuse the can-do and lower cost delivery project approach and culture of start-ups into their own change processes. I see all three engagement models in the way that insurers are involved in Startupbootcamp's insurance accelerator and have their own accelerators.
Dance 'til the sun comes up
Ultimately I think that the whole exercise is as much a part of the cultural change in insurers as for any one particular initiative – undoubtedly useful products will be built and insurers will benefit from the increased customer engagement of consumers; start-ups will benefit from tapping into the expertise and capital of insurers. In that sense the start-up/ insurer dance is not the one at the wedding where the bride and groom kick off the proceedings, but it is one of the crowd-pleasing numbers in the middle that fills up the dance floor. Groove on, baby!