The boss of Ink Underwriting is the Mr Big of the insurance world. Insurance Times talks to him about Ink's plans for a new one-stop solution for brokers, and asks if there are any more acquisitions slated
Standing at seven feet tall, Mike Smith is an insurance giant and he has an enormous job on his hands. In March, the Ink Underwriting managing director was given the task of propelling the managing general agency (MGA) – owned by the much talked about consolidator Giles – to new heights.
The Leeds-born 44-year-old is no stranger to attention, and at industry events he literally stands out from his peers. In every sense, he is a larger-than-life character. And he is currently prepared to put his neck on the line as he leads Ink's charge into a new era.
After greeting Insurance Times with a bear-like handshake and a cheeky smile, Smith senses an early opportunity to play on his bulldozer-like build. When asked about his decision to join the company, he jokes: "The business saw an opportunity on the wholesale side and they were looking for someone big in the industry, so they picked me."
Smith began his career at Independent Insurance where, he says with a hint of mischief, he was a small business inspector. He went on to run the insurer's South East division before landing a UK distribution role. He moved on to Link, once part of Lloyd's insurer Kiln, before joining Provident Insurance.
One former colleague lavished praise on his style: "He works hard and plays hard, and expects his team to do the same." Smith is also well liked in the broker market, and has joined broker pals to complete the notorious Circle line challenge (a pub crawl around all 27 stations on the London Underground Circle line) three times.
Pick and mix
Smith – sporting quiffed hair and a lilac and purple shirt and tie – has been well briefed by his business-like PR for his first major interview since starting the job.
Ink has big plans. It raised eyebrows in August when it bought broker network Westinsure, and then last month it announced its move into the solicitors' professional indemnity market ahead of the 1 October renewals.
The company is going through major change. In June 2007, when it was acquired by Giles from its founders Keith Syrett and Philip Thomas, it specialised in liability insurance for the printing sector, with about £25m of gross written premium. It has since become an operation with seven UK offices and 130 staff, including 40 underwriters. It controls £105m GWP through its network of 1,000 mostly small independent brokers. So what is the company up to now? It will soon announce its new strategy to the broker market, and it will rebrand with a new logo, but plans to stick with its name.
The main focus is on the launch of its new concept, a one-stop insurance solution for brokers. The business is pulling together its resources to create three specialist areas: underwriting traditional commercial business such as SME, PI and D&O; wholesale business for large risks and London market business (boosted by the group's acquisition of FSJ from Cooper Gay in April); and schemes business placed with specialist brokers, such as the Giles-owned Arnott Marine.
Smith adds the detail: "We've created a new process so that when brokers send their enquiries through, we can place them within one of the different business areas. A quote-management team has been set up to improve the quotation service. They then come back with a quote for the broker made up of a mixture of underwritten, scheme and wholesale business. I don't think anyone else in the market is doing that."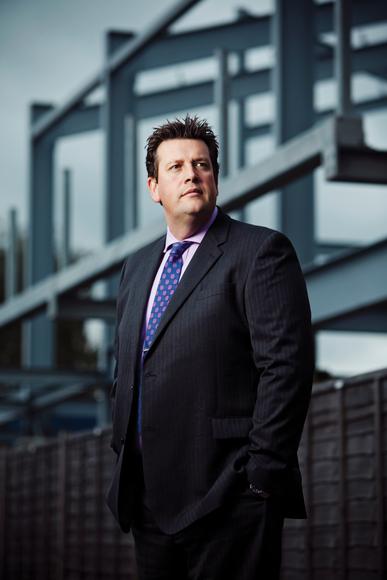 Smith's vision is to make Ink more flexible to the broker market and to make it easier for brokers to place business. To explain it, he tells the story of ordering a bacon and mushroom sandwich for breakfast at a London hotel. When told that the chef could not make it for him, Smith ordered the toast, bacon and mushrooms separately and created his sandwich himself. "That's kind of what a lot of insurers do," he says. "They have all the pieces but don't necessarily deliver them in the best way for the broker."
Ink moved into its new open-plan headquarters in Rayleigh, Essex, in June. The view from the boardroom is, fittingly, a printworks, once the cornerstone of Ink's business. Smith, however, prefers to spend most of his time at Giles' City head office in Birchin Court.
He is keen to stress that Ink is a separate legal entity within the Giles group. The model of broker-owned MGAs is questioned by many in the industry. While this doesn't bother Smith that much, it is fair to say Ink is fed up with being referred to as a Giles-owned MGA. Smith says: "Obviously we are conscious that we don't want there to be interaction [between Ink and Giles].?Brokers would never deal with us if they thought they were feeding a competitor, so we are separate businesses."
Giles is Ink's biggest broker partner but that will decrease over time, according to Smith.
Empowered to deliver
But having a parent company like Giles brings with it the stresses of the corporate world. While Ink might benefit from investment by Giles's private equity backers Charterhouse Capital Partners, there is pressure to perform. Also, if Giles was to undergo an IPO by 2012 – as is widely expected – Ink would be included in the float.
Is Smith up to the challenge? He claims that his four years at Provident as sales and marketing director, during which the company was acquired by US automotive giant GMAC, has put him in good shape.
He says that after the GMAC takeover, he experienced American corporate governance and its sometimes overly hands-on approach. "With Giles, it's more entrepreneurial. You have the ability to be empowered to go and deliver things. It's good to be part of a business that is going places."
Smith reports to Giles group managing director Sarah Lyons. He meets chief executive Chris Giles only occasionally but says he has been "incredibly supportive".
Being handed the funds to buy Westinsure, a broker network with 183 members controlling £300m GWP, was a boost. Ink will join Westinsure's panel and target its brokers with its new offering. Smith says Westinsure was a justified acquisition because it "is a good little business on its own". He says: "We think that more brokers will want to join networks, and Westinsure has done a great job in increasing membership in the last few years." How much did it cost? "It was a lot less than everybody was suggesting", is all he will say.
So is Ink now a player in the acquisition market? Smith doesn't foresee any more network deals, but says Ink could be tempted by an MGA or underwriting business if the right deal comes along.
Away from business, Smith's passions include travelling (he recently returned from Langkawi, Malaysia), his 10-year-old daughter and his wife, a nutritionist. His biggest driver, however, is his ambition. "I enjoy building things and working with a strategy," he admits. "So hopefully Ink will keep me occupied for a few years yet!" It certainly looks likely. IT