AXA's UK boss is uncompromising and fast working. In his first four months in the job, he has split the business in two, said goodbye to Philippe Maso and welcomed Amanda Blanc. Now, all he has to do is return the insurer to growth and work out what to do with Bluefin …
It's a tough job, but somebody's got to do it. And Paul Evans, the new group chief executive of AXA UK, has made an unambiguous start. Within days of taking the reins last October, AXA Insurance chief Philippe Maso was out of the business, which was reorganised into commercial and personal lines following the sale of the life side to Resolution in the summer.
By the end of last year, Evans had shocked the market and shaken one of its biggest brokers to the core by pulling off the appointment of Amanda Blanc, deputy chief executive of Towergate, as chief executive of the commercial business. The message was clear: AXA was back, Evans meant business and growth was firmly on the agenda.
But there's no getting away from the numbers. The day before Insurance Times met Evans, AXA UK and Ireland had reported a 44% plummet in underlying earnings to £131m, with an overall combined operating ratio of 105.3%. Given that these numbers include AXA Ireland and
AXA PPP, and thus would read even worse for the pure UK GI business, Evans has certainly got a fight on his hands. This morning, he is upbeat, insisting that he can deliver growth, return AXA to its rightful place in the market and make some noise with Bluefin.
The great divide
Let's briefly recap: Evans, formerly the chief executive of AXA's life business, took the top job in the UK following Nicolas Moreau's return to the head office in Paris. He had spent the preceding months steering the sale of the life business, and so was left with the GI arm and some remaining elements of life, health and Ireland. There was some speculation that AXA could sell the rest of the UK business and withdraw entirely from the market – speculation Evans firmly denies.
Meanwhile, general insurance chief executive Maso had been coming under increasing pressure from the commercial market and, following the departure of his commercial boss Ant Middle to Aviva, had for several months been expected to announce a replacement.
The reasons for the delay became clear when Maso's departure was announced. AXA sources suggest that Evans and Maso had never hit it off, but today Evans says: "My first decision was to split AXA Insurance, so there wasn't a CEO job anymore. It wasn't a personal decision."
It never is. Following Maso's departure, the big question was who Evans would get in to run the all-important commercial arm. Speculation raged for a couple of months, with names from Allianz's Chris Hanks to Aviva's Janice Deakin all mentioned. The final appointment – of Blanc – was an undeniable coup, and one that has got Evans' competitors worried.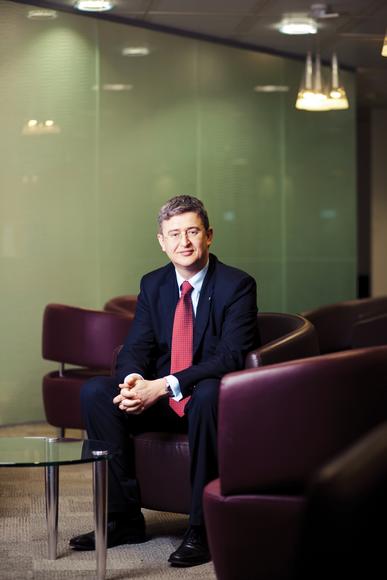 How did he pull it off? "Charm," he chuckles, leaning back in his seat in his new office in Old Broad Street (under Maso, AXA relocated its top functions to the Gherkin, but Evans was having none of that, and has moved them back). "I think splitting AXA into two businesses was a significant move that made that role far more compelling." Was including responsibility for broker Bluefin a crucial element for Blanc? "It was crucial for me," he retorts – but more of Bluefin later.
On personal lines, AXA is growing, with revenues up 17% to £1.4bn. Profitability is still a long way off, however, with an overall combined operating ratio of 112.6%. Even direct motor – that is, Swiftcover – supposedly the jewel in the crown, is limping in at 107%. Evans envisages further growth in personal lines, under the management of Steve Hardy. The wider business is being "reversed into" Swiftcover, using its systems and models. Sources suggest this has led to a culture clash, but Evans says not.
"I've made it clear I want to see more of an entrepreneurial culture and help reinvent AXA," he says firmly. He now wants further growth in the business, while maintaining its cost base.
On commercial, Blanc also has a clear mandate for growth. "Profitable growth," he interjects. And that's the crucial point. Given the state of the market, there are major risks attached to one of its leading players being on a growth drive. Again, Evans is unambiguous. "I can assure you that AXA won't chase rates down – that's not consistent at all with a business that has just reported [a COR of] 105.8%."
Building up Bluefin
There's one clear area where AXA can get more business without monkeying about on rates: through its broker Bluefin, which currently places most of its book with rival Aviva. When AXA first bought the brokers that now make up Bluefin in 2007, the question of whether insurers should own brokers was so vexed that it made a great point of not having the primary trading relationship. Times have changed: four years on, the market is much less sensitive to these arrangements and people are starting to question why AXA isn't getting more value out of the business. Indeed, for a couple of years, it has been surrounded by sale rumours, and a management buy-out by Bluefin chief executive Stuart Reid has been widely touted.
Evans has this to say: "When I started in this job, I had to fight back a queue of people who a) thought Bluefin was for sale, and b) wanted to buy it. I was phenomenally relieved that everyone thought it was such a valuable asset."
Cynics would argue that Evans is being a touch disingenuous here because, in fact, the reason people might want to buy Bluefin is that, today, they could probably get it fairly cheap – certainly for significantly less than AXA paid for it. But he insists: "Whether it's worth less today or not is an irrelevance to me."
We'll bite our tongue here, and allow Evans to outline the future for the broker, as he sees it: "It looks too separate – like it's a toy sitting in the cupboard, unplayed with. That wasn't our intent.
I am convinced that Amanda knows how to work with Stuart to run Bluefin better, but also to extract the synergies we're looking for."
What might that look like? More schemes business, certainly, and the rather vague "customer insight" that AXA can leverage through Bluefin. "I would just simply observe that we didn't go out to own a broker simply for the sake of owning a broker. I could have bought BP shares if I'd just wanted to invest in something."
As should be clear by now, Evans is pretty straight-talking and seldom slips into the management jargon that is the preserve of insurer chief execs. He's not well known in the broker market, having come from the life business, but is so far fairly well regarded. He freely admits: "I'm not the easiest person to work for. I have very, very high standards and expect great performance. I'm an accountant by background and have been accused of being a little bit into the detail. If I was too into the detail in this job, I'd be drowning – and that's a bit of a shift for me."
Evans is not the first to sit in this chair and utter assurances about AXA's commitment to the UK market, its ability to grow, its determination to hold the line on rates, and so on. He's made a good start and has a formidable asset in Blanc, but the rest of this year will be crucial in determining AXA's place in the UK market. IT