Where in the country an injury claim is heard can be crucial, as we report in the second half of our investigation into whiplash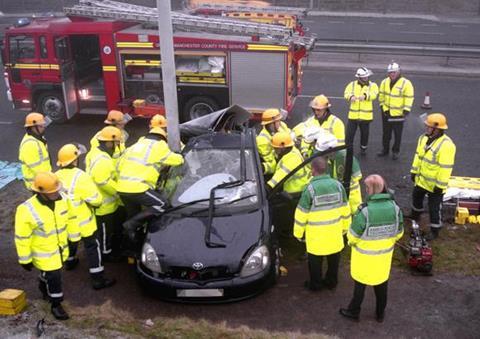 There's an old adage in police circles: "Judges are always the last to know."
But, in some parts of the country, industry concern about judicial decisions are more marked than in others. The muttering is loudest when talk turns to the North West.
Sabre Insurance chairman Keith Morris says that his company has given up fighting claims lodged in the courts in the North West, such is the degree of scepticism about achieving a favourable verdict.
Morris, who chairs the ABI's motor committee, says: "You don't stand much hope in these courts as they tend to be claimant friendly."
It's a widely held view, though Insurance Times found little in the way of hard statistics to back it up.
But the North West contains the biggest concentrations of claims management companies (CMC), according to an analysis by the Actuarial Profession trade body (see figure 1). The region has also witnessed some of the steepest increases in motor insurance over recent years. The former justice secretary Jack Straw is a local MP. His concerns about the escalating cost of premiums for his Burnley constituents prompted his call in June for a referral fee ban.
On the map
The reason this issue matters for the industry is that, since the early 1990s, solicitors have been able to choose where claims are heard. Many opt to issue claims in Birkenhead and Liverpool county courts.
"The firms with claimants tend to use the courts most favourable to their clients, and a lot go to Birkenhead," says Weightmans head of policy development Kate Lotts.
Law firm Keoghs' head of counter-fraud investigation, Ruth Needham, recalls one case. "The firm of solicitors was based in Birmingham and their clients were based in Birmingham, but that firm knows that if it goes to Birkenhead it will get a more favourable hearing. They'd passed 10 courts on the way to Birkenhead. There should be more questioning by the court on why a firm that is not based in the area is using it."
At the root of the gripes about the North West is a string of judgments issued by the region's courts on the low velocity impact (LVI) cases that typically cause whiplash injuries.
Refuting a whiplash claim is inherently difficult, given the soft tissue nature of the injury, which means the diagnosis relies on the pain the patient reports to his doctor.
The result, many say, is that many claimants invent or exaggerate whiplash injuries in the hope of an insurance payout, largely explaining the one-third increase in such injuries in the past three years, revealed by Insurance Times last week.
But proving fraudulent whiplash claims is time-consuming and costly, especially when weighed against the relatively small sums involved.
Insurers are keen to establish objective criteria that courts can use to test whether the accident was fast enough to cause whiplash (see 'Quest for the test', right).
However, attempts by defendant lawyers to use such techniques have hit roadblocks in the North West's courts, where a series of judgments has highlighted a pronounced scepticism about the value of such evidence.
There should be more questioning by the court on why a firm that is not based in the area is using it

Ruth Needham, Keogh's
Insurance Times has seen evidence showing that claimant lawyers have advised defendants against fighting cases at Preston, one of the county courts in the North West, citing the region's judicial track record.
A letter, seen by Insurance Times, sent by Accrington firm Forbes Solicitors to Norwich Union in 2007, stated that: "In this area low vehicle impact case (sic) are specifically dealt with by the Local Circuit Judge John Appleton and lets (sic) hope that rather costly litigation process (sic) will not be necessary in this case."
Appleton, who sat in the Preston County Court, had his knuckles rapped by High Court judge Justice Akenhead for not following the principles outlined in the Court of Appeal's 2006 decision on the landmark Casey v Cartwright case.
The appeal court judges had overturned a decision by Manchester County Court Judge Holman in which he had ruled that expert evidence could not be used to help determine an LVI case.
Akenhead overturned a ruling by Appleton, who retired earlier this year, preventing a claimant from being examined by a defendant's medical expert. Appleton, in Akenhead's view, had expressed "extreme scepticism" about the value of such evidence.
The 10-minute hearing
Under new guidance, subsequently issued by Holman, expert evidence available to defendants will be restricted with the focus back on the credibility of the respective parties.
A spokesperson for the Judicial Communications Office said: "All judges decide cases on the individual facts of that case according to law and the judicial oath. If a party is dissatisfied with the judicial determination of any claim, it is open to them to appeal the decision. This applies to insurers, as it does to any litigant. If an individual wishes to complain about a judge's conduct, they can, in appropriate circumstances, raise their concerns with the Office of Judicial Complaints."
The courts are trying to do justice on limited budgets and are reluctant to be side-tracked by expensive, time-consuming legal arguments from defendants. But Needham says that can work against defendants, with courts sometimes allowing just 10 minutes to present evidence. "These are the kind of issues that can't be dealt with in 10 minutes," she says.
Another factor is that county courts are more likely to draw their judges from the claimant than from the defendant community, says claimant law firm Stephensons partner Andrew Welch.
He says: "Claimant firms tend to be smaller, so you will have a better prospect of building up a pension than by becoming a partner in a small high street firm. There is a tendency for the judiciary to be drawn from that sector rather than from the defendant firms."
This background gives the judges a better understanding of the pressures facing individual claimants rather than those facing the insurers they meet in court, he says.
A leading defendant lawyer says: "It's difficult to put across the point that the community is supporting that person through the NHS and to an extent there's a feeling that they are running a charitable fund."
Sabre's Morris says: "Judges think they're doing the right thing by claimants. They don't understand it's driving the cost of insurance up."
Quest for the test
An objective test for establishing whether a whiplash injury is genuine is the Holy Grail for motor insurers.
The Thatcham Institute, the insurance and motor repair industries' research centre, reckons that just a quarter of whiplash injuries are genuine.
Burnley-based forensic engineering firm GBB has developed methods for testing the likelihood of injuries at particular speeds.
"At 3 mph, we believe [whiplash] is unlikely. At 5mph, you are looking at a real possibility of whiplash," says GBB director Matthew Stansfield.
Legal pains
It's not just insurance companies and the government that are concerned about referral fees: some personal injury lawyers are too.
Andrew Dalton, partner at specialist PI law firm White Dalton Motorcycle Solicitors, says referral fees may be providing consumers with access to justice, but not the best quality legal advice. He says: "It turns human injury victims into commodities to be ruthlessly and pointlessly traded. This disgusts and angers me."