'We can think about flags, systems and technology, but the best method still proven is peoples' feel and experience'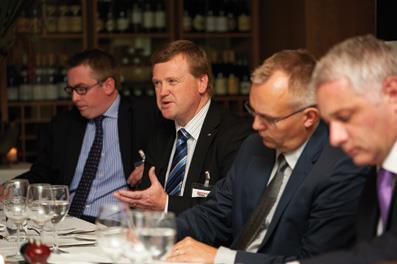 Recession-related insurance fraud has soared over the last year, according to AXA head of property claims Martin Ashfield.
In a keynote presentation at the latest Insurance Times claims clinic on property, he said: "If 12 months ago, we had asked the question: 'Is the recession having an impact on fraud?' you'd have likely said 'probably.' I think the answer right now is 'almost definitely'."
Rates were increasing as a result, he added, but noted that fraud detection was also increasing. "Is it the norm, or are we better at detecting? I think both," Ashfield said, adding that human instinct was still the best way to detect fraud.
"We can think about flags, we can think about systems and technology, but by some margin the best method still proven is peoples' feel and experience," he explained.
Fees are being squeezed, we do live in a world of ebbs and flows of claims. How do we deal with that in terms of being effective in times of surge, but managing that resource when things are quiet?"

Alex Kilpatrick, client development director, Merlin Claims
Turning to the broader property claims arena, he warned surge events were going to become more common: "The frequency and severity is on the increase. It's just going to be a way of life."
You see various stats and surveys rolled out that say one in five people might consider taking an insurance claim for a bit of a ride. Some people might think it's on a par with putting a hotel towel in your bag when you leave. Bottom line is, it's theft."

Martin Ashfield, head of property claims, AXA
The industry could do more to collaborate on its response to flood, Ashfield said, describing a typical scenario where the claim for one house on a flooded street could be held up, while that on another house on the same street could move quickly.
There is no legal form to make a claim under the Riot Damages Act. If I'm going to be flippant, you can write your claim on the back of a used bus ticket and it would still be valid. You can use any form you want."

James Dalton, assistant director of property, motor and liability insurance, ABI

"Outsiders looking in would probably think: 'What a poor use, or poor opportunity, with regard to resource management,' and would be critical of it."
Discussing the August riots, the industry reacted well despite being relatively inexperienced in such claims, said ABI assistant director of motor and liability James Dalton. But the industry was getting better at dealing with flooding events, he said.
Dalton added that the ABI's recent Exercise Watermark initiative - an industry test run for a £10bn flooding event - had originated a number of recommendations to improve how the industry reacted to flood surges. The ABI is helping to roll these recommendations out, he added.
Merlin Claims created a special team just to oversee the reaction to the escape of water claims last winter, said client development director Alex Kilpatrick.
The team made decisions, directed loss adjusters on the ground, carried out validation, checked for fraudulent claims and helped customers, he said.
The loss adjuster saw big improvements after setting the team up, including settling claims quicker and catching more fraud, Kilpatrick added.